At a Glance
Expert's Rating
Pros
Preconfigured RAID 0
Dual Thunderbolt ports
Time Machine-ready out of the box
Cons
Only supports Thunderbolt connectivity
Thunderbolt cable not included
Our Verdict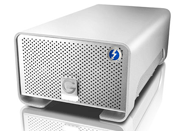 G-Technology's G-RAID with Thunderbolt is a preconfigured RAID 0 storage device that houses two 7200-rpm Hitachi drives in an all-aluminum enclosure. While it's configured as a striped RAID (RAID 0), it can be reconfigured to a mirrored RAID (RAID 1) for data protection by using the Mac OS X Disk Utility.
Coming in at 4TB, 6TB, and 8TB configurations, and covered by a three-year warranty, these high-performance drives come with a price tag of $799, $999, and $1199, respectively. The G-RAID with Thunderbolt is compatible with Mac OS 10.6 and higher, and is Time Machine-ready so it easily integrates with your Mac right out of the box.
In its 8TB configuration, this drive is the highest capacity, external two-drive RAID 0 on the market, and according to the company, has the ability to store 8.4 hours of HDV 1080i, 1.7 hours of DVCPRO HD video, one hour of ProRes 422 HQ video, 50,000 photos, or 25,000 MP3s per 100GB. With such a large amount of storage space and lightning-fast Thunderbolt transfer speeds, this drive is ideal for film makers, photographers, and audio producers. And, since there are two Thunderbolt ports on the back of the drive, the G-RAID easily fits in a Thunderbolt daisy chain.
While the G-RAID has a lot of things going for it, there are a few minor drawbacks, but they're the same set of flaws found in nearly every Thunderbolt drive available. The first issue is that the G-RAID only supports the Thunderbolt interface, which means if you have a Thunderbolt-less Mac, the drive won't integrate with your machine. Secondly, the necessary Thunderbolt cable is not included with the drive and will cost you an extra $49 from Apple. However, if you are looking for a drive that offers speedy transfer rates and plenty of storage space, you shouldn't let these minor issues discourage you from purchasing this drive.
In our standard hard drive tests of the 8TB model, the G-RAID performed well, averaging a write speed of 314 MBps, and an average read speed of 317.9 MBps in the AJA System Test. To write/read a 10GB file, the drive averaged 206.2 MBps and 170.5 MBps, respectively. Furthermore, when writing a 10GB folder, G-RAID averaged a write speed of 191.7 MBps and a read speed of 149.3 MBps.
Compared to other Thunderbolt RAID drives that we've tested, the G-RAID competes well with our 10GB file write test, but it fell behind in the 10GB file read test. The G-RAID tied for the fastest time in our 10GB folder write test, and was the fastest two-hard-drive device in our 10GB folder read test. In the AJA System test, only the Promise Pegasus R6 was faster than the G-RAID when it came to write speed; with read speed, the G-RAID was beat by an SSD-based device and a unit with six hard drives configured as a RAID 0.
Benchmarks: Thunderbolt storage devices
| | Write 10GB file | Read 10GB file | Write 10GB folder | Read 10GB folder | AJA Write | AJA Read |
| --- | --- | --- | --- | --- | --- | --- |
| G-Technology G-RAID with Thunderbolt | 206.2 | 170.5 | 191.7 | 149.3 | 314.0 | 317.9 |
| LaCie 2big Thunderbolt | 217.5 | 182.8 | 191.7 | 148.6 | 293.6 | 303.9 |
| LaCie Little Big Disk SSD | 208.4 | 184.0 | 190.0 | 158.2 | 245.2 | 480.4 |
| LaCie Little Big Disk HD | 197.4 | 178.6 | 166.7 | 144.8 | 192.5 | 205.0 |
| Promise Pegasus R6 | 208.4 | 177.9 | 190.5 | 157.5 | 516.1 | 524.2 |
| Seagate GoFlex Desk FW800 | 70.5 | 81.8 | 67.0 | 74.2 | 68.6 | 82.6 |
All scores in MB per second. Larger number is better. Best results in red.
We connected each drive to a 2011 17-inch 2.4GHz Core i7 MacBook Pro running OS X 10.7.2 with 4GB of RAM and an internal 250GB SSD. We timed the copy of a 10.77GB Zip file to the external drive and then timed copying the file back to the internal. We did the same with a 10.77GB folder of 7,420 smaller files. We then used AJA System Test with the Video Frame Size set to 1920 by 1080 10-bit RGB and a file size of 2GB.—Macworld Lab testing by James Galbraith and Kean Bartelman
Macworld's buying advice
Altogether, this is a great drive, especially for users who will be transferring and storing large media files. Whether you need to add storage to your studio computer, or need a speedy, portable storage solution for production on the go, the G-RAID with Thunderbolt offers both speedy transfer times and huge amounts of storage capacity.