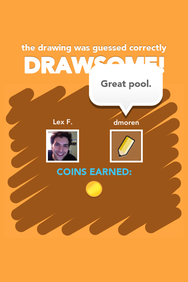 Now you can more easily mock or applaud your friends' artwork in Draw Something. An update to the hugely popular doodling game released Wednesday introduced several much-requested features, including an in-game chat option, the ability to share your drawings, and an undo feature.
Draw Something's implementation of each of the new features is a bit unusual. The new chat option doesn't mirror in-game chat screens in games like Words With Friends. Rather, you only post comments on completed drawings, either after you finish doodling or your friend finishes guessing; messages show up during in-game interstitials as floating speech bubbles.
The sharing feature lets you share your finished drawings with the world via Facebook or Twitter, or save them to your iOS device's camera roll. You can't save your friends' drawings, unless you fall back to taking a screenshot of their creations.
Anyone who's ever drawn on a touchscreen device craves Undo from time to time, and Draw Something adds it in the version 1.5.14 update. But unlike many other drawing apps, Draw Something offers a mere single level of undo; you can revert the last line you added, but nothing more.
Draw Something remains available in free and $1 editions—though Zynga paid $200 million for it. It's a universal app for iPhone and iPad, and requires iOS 3.0 or later.