[Ask the iTunes Guy is a regular column in which we answer your questions on everything iTunes related. If there's something you'd like to know, send an email to the iTunes Guy for consideration.]
There are many tips and tricks that can make working with iTunes a bit faster or easier, and we've gotten a number of questions about such techniques. In this installment, I answer questions about some of the little things in iTunes, tips and tricks that every iTunes user should know.
Q: What is the checkbox to the left of each song for? Why isn't there any "check/uncheck all" command?
Those checkboxes tell iTunes to use checked tracks in certain situations. For example:
When ripping CDs, only those tracks that are checked will be imported.
When playing CDs, only those tracks that are checked will be played.
Smart playlists offer a Match Only Checked Items option—only those items that are checked will be added to a smart playlist if this option is checked.
When syncing an iOS device, you'll find a Sync Only Checked Songs And Videos option.
As for checking or unchecking all, there are two ways to do so. If you press the Command key and check a box, all of those in the current view will be checked. If you're in a playlist, all the tracks in the playlist will be checked. If you're in your Music library—or any other library—every item will be checked, so be careful.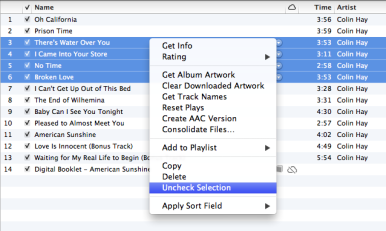 Alternately, you can select a group of tracks, Control- or right-click them, and choose Check Selection or Uncheck Selection from the contextual menu.
Q: Is there a quick way to highlight the Search box in iTunes?
Yes, just press Command-Option-F to go to the Search box in iTunes, whether in your library or in the iTunes Store. (It's worth noting that this shortcut works in Safari, Mail, and many other programs as well.)
Q: Can you tell me in simple terms how to make all the music in my iTunes library come out at the same volume?
iTunes has a feature called Sound Check, which normalizes the volume of all the music in your library. Go to iTunes -> Preferences -> Playback, and check the box next to Sound Check. iTunes will then analyze your music (this may take a few minutes), then play it back at the same relative level.
The levels it uses, however, are averages across a track, so you may have a track that starts off very softly and finishes much louder, whose volume will be lowered enough that it sounds too soft at the beginning. But in general, this is a good way to get a somewhat stable volume across all your music.
Q: Is there a way to call up the most recently imported tracks without knowing their specific names?
Indeed. Make sure you're looking at your Music library in List View; choose View -> As List if you're not. If the Date Added column isn't visible at the top of the list, choose View -> View Options and put a check next to Date Added, then click OK. Click on the Date Added column header to sort by date added; the most recent stuff will float to the top.
You can also create a smart playlist for such a purpose, as I did. Create a new smart playlist by choosing File -> New Smart Playlist. Since you need at least one condition, I use Date Added In The Last 2 Weeks. Make sure to check Live Updating, so new files are added to the playlist as soon as you add them to iTunes. Click OK, then choose the smart playlist to see your newest acquisitions.

Note that as created, the smart playlist will show all files you've recently added, including movies, TV shows, ebooks, and so on. If you want to limit it to music add a second condition to the smart playlist that reads Media Kind Is Music and make sure the playlist is set to Match All Of The Following Rules.
Q: I have two iPhones, and they were set to sync by Wi-Fi, but they no longer show up in the iTunes source list. How can I get them back?
Just connect each iPhone to your Mac via the USB cable. Each should then show up in the iTunes source list and sync. When you disconnect them, you'll still see the iPhones in the Devices section in iTunes.
What you don't want to do is eject the iPhones from iTunes by clicking the small icon next to them. That removes them from the list. So just unplug the USB cable and go about your day.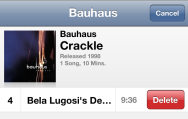 Q: I'm using iTunes Match with my iPhone, and I download music to listen to, but my iPhone quickly gets filled up. Is there any way to remove music from the iPhone?
Yes, swipe to the right with any item—a song, album, artist, or genre—then tap on Delete to remove it. If you change your mind, just tap on the Cancel button.
Q: When I download movies and TV shows from the iTunes Store, it forces me to download both HD and SD versions. I only watch HD, so how to I remove the SD versions from my hard drive?
In iTunes, select the TV Shows list and then look for TV episodes that have an HD/SD icon to the right of the episode name. Select an episode, choose File -> Show In Finder (or press Command-Shift-R), and then delete the unwanted version (the one without (HD) in the name for the standard-definition version). Repeat for each episode. If you ever need to re-download the deleted version of an episode, go to the iTunes Store's Purchased screen, click TV Shows, find the episode, and click the Download button.
[Senior contributor Kirk McElhearn writes about more than just Macs on his blog Kirkville. Twitter: @mcelhearn Kirk is the author of Take Control of iTunes 10: The FAQ, second edition].
Updated 10:19 a.m. ET to correct the keyboard shortcut for search.