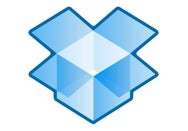 Dropbox, the Internet-hosted file-synchronization service, updated its desktop, mobile, and Web app software on Monday to allow any file or folder stored in a user's sync folder to be shared with other people via a Web-accessible link. The shared files and folders make use of Web-based previewing that allows images, videos, and documents to be viewed, heard, or paged-through without an external application, as well as simply downloaded.
This is a significant change for Dropbox, which has focused almost entirely on account-based access either for individual synchronization or for collaboration using shared folders. The move makes it much easier for people without Dropbox accounts to view and download files stored with that service. This puts them in competition with sites that specialize in file transfers, such as Pando, TransferBigFiles, and YouSendIt.
Dropbox previously allowed publicly sharing files (but not folders) that were placed into the Public folder located in its default sync folder. Users could then Control-click a file and, from the Dropbox menu, select Copy Public Link. Requiring the use of a special folder meant most users were unaware the feature existed, a company representative said. Viewing the public link also caused inconsistent behavior, as, depending on the file type, some browsers would try to load and display the entire file (as with an audio or video file), balk at downloading it (if in-line support were missing), or immediately download it.
The new offering makes sharing contextually available for any file (under the label Get Link) stored anywhere in the sync folder, and extends sharing to folders as well. The Mobile and Web versions of Dropbox have also been updated to allow sharing any item by clicking or tapping a chain-link icon. Shared files and folders are viewable by opening the URL in a Web browser, but items may be downloaded or, with a free or paid account, copied to the viewer's Dropbox folder. Shared links can also be disabled at any time, which is also a new feature. (The new sharing aspect of the service resembles CloudApp, a drag-and-drop cloud-sharing service.)
Drew Houston, Dropbox's co-founder, said that the company's intent was to make it more obvious to users that files could be shared publicly while extending the functionality to those without accounts. "We wanted this to be a really simple experience," he said. "You can share huge files and not just single files, but whole collections of files," a new capability that users had asked for.
Part of the new approach involved building a robust viewing Web app, the firm said, which can display the contents of many kinds of media (including native Photoshop files) and documents, and allows scrolling through multiple-page PDFs, Word files, and other documents. (The RTF format is on its way.) A folder of images can be viewed as a gallery.
Video is transcoded from the format that a user puts in his or her Dropbox into one that can be streamed as soon as a video file is uploaded. The preview supports scrubbing (moving to arbitrary positions in the video timeline) only for the portions of the video that are already loaded, although the preview video will typically be far smaller (and thus faster) to download than the original. Dropbox hasn't yet made available a complete list of supported documents and media types, but confirmed that H.264 video is fully supported as a source format.
Dropbox retains its existing collaborative folder sharing, which requires registered Dropbox accounts, and in which participants are invited to a folder, which is replicated on all of their synchronized computers as well as the machines registered to the person sharing the folder.
The service offers 2GB of storage at no cost, and has paid tiers of 50GB for $10 per month and 100 GB for $20 per month. Google was rumored to be launching its long-awaited Google Drive service with 5GB of free storage, but the company hasn't confirmed that.
Dropbox is beta testing an option to automate importing photos whenever a camera or phone is connected via USB, or a camera card is inserted into a reader connected to a computer. During testing, the company is expanding free storage permanently by up to 3GB (for a total of 5GB) to ensure testers have enough room for their images and video. The company said it would have news soon about this feature moving from beta into production.
Editor's note: Updated on 2/23/12 at 7:45 p.m. PT to remove an incorrect statement that said that collaborative synced folders could optionally be set to read-only status.
[Glenn Fleishman is a senior contributor to Macworld, and one of the writers of the Economist's Babbage blog.]