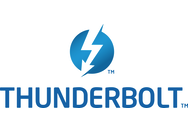 About 100 peripherals based on the Thunderbolt connector technology will become available by the end of the year, a big jump from a fraction of the devices available today, if Intel meets its target, a company executive said on Monday.
The number of Thunderbolt devices in the market will grow as the connector technology expands from Apple computers to Windows PCs, said Kirk Skaugen, corporate vice president and general manager of Intel's PC Client Group, at an event in San Francisco that was webcast.
"We have 21 Thunderbolt devices in things like storage and displays in the marketplace. We have a hundred targeted by the end of the year, and hundreds of Thunderbolt devices targeted by the middle or end of next year," Skaugen said.
Thunderbolt, which was introduced more than a year ago, is a high-speed connector technology that moves data between computers and peripherals. Thunderbolt was co-developed by Apple and Intel and has data transfer speeds of up to 10 Gbps, which is faster than USB 3.0. Thunderbolt ports first appeared on Apple's Macintosh computers, but will also appear on new PCs from Lenovo, Asus and Acer later this year.
A number of storage devices from Matrox, Western Digital and Seagate are available with Thunderbolt ports. Apple also offers a 27-inch Thunderbolt display.
Skaugen's remarks came during an event announcing the new third-generation Core processors code-named Ivy Bridge. There will be a higher level of Thunderbolt integration in computers with the new Core processors, Skaugen said. The Z77 motherboard for the new Core processors includes an option of Thunderbolt data transfer lanes, which will help move data faster in and out of PCs.
"You don't want to wait to download your … video or your high-definition movies. What traditionally had taken over five minutes to take a high-definition movie and put it into your PC, you can now do it in 30 seconds," Skaugen said.
Thunderbolt is being integrated at a higher level on Ivy Bridge motherboards, which reduces the need for a discrete chip to implement the technology, said Dean McCarron, principal analyst at Mercury Research.
"As more ports ship out, there will be more peripherals and that benefits both PCs and Macs," McCarron said.
Intel's Thunderbolt strategy is similar to the company's USB strategy from the mid-1990s, McCarron said. Intel initially shipped out USB ports that weren't being used, but Thunderbolt has gotten off to a better start with stronger device and software support.
The new Ivy Bridge chips also support USB 3.0, which should make the connector technology "ubiquitous," Intel's Skaugen said. Intel has insisted that both USB 3.0 and Thunderbolt connector technologies can coexist, and that laptops will come with both ports. USB 3.0 ports are being added in many new laptops shipping today, while Thunderbolt is still in its infancy.
Intel is also putting a lot of effort into making Thunderbolt faster. The company hopes to ship optical Thunderbolt cables later this year, and is also implementing internal support for the faster PCI-Express 3.0 bus. The current iteration of Thunderbolt comes with copper cables and supports the slower PCI-Express 2.0 bus.
[Agam Shah covers PCs, tablets, servers, chips and semiconductors for IDG News Service. Follow Agam on Twitter at @agamsh. Agam's e-mail address is agam_shah@idg.com.]