Given the increasing popularity of solid-state drives, with their smaller-than-hard-drive capacities, and the prevalence of drive-hogging media files, sometimes it feels like we're back to the days when we constantly had to worry about filling up our drives.
Last November, I reviewed FreeSpace, a nifty app that displays, right in the menu bar, the boot volume's free space, with a drop-down menu displaying the free space on every other mounted volume, organized by type (internal, external, network, disk image, and so on). It also gives you quick access to any mounted volume—choose one from the menu to open it in the Finder—and it's the easiest way to unmounted connected volumes, thanks to the little eject button next to each volume in the menu. (A nice touch: The FreeSpace icon blinks to let you know when the volume has successfully unmounted.) There's even an Eject All command to unmount everything but internal drives with a click.
I continue to use FreeSpace regularly, and it earned an honorable mention on my 2011 favorite-Gems list. The developer just released FreeSpace 1.1 ( Mac App Store link), and the new version is considerably improved, addressing a number of my criticisms while adding even more useful features.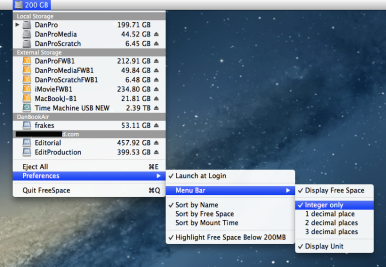 For example, if a connected drive had multiple partitions, ejecting one using the original FreeSpace would automatically unmount all of them. In version 1.1, you can Option+click any partition to unmount just that partition, leaving the others on that drive mounted. I also noted in my original review that unlike previous Gem Space Control, FreeSpace wouldn't alert you if a particular volume was getting tight on space. In the new version, FreeSpace automatically highlights any drive with less than 200MB of free space. This feature isn't as powerful as Space Control's customizable alerts, but it's a nice improvement.
Another complaint was that although you could choose any internal volume for FreeSpace's menu-bar display, you couldn't choose an external or network volume. FreeSpace 1.1 lets you choose any connected volume for its menu-bar display—just move the mouse to the left of the volume name and click the little arrow button that appears. And if you choose a removable volume, FreeSpace remembers that selection—when you unmount the volume, the display reverts to the boot volume, but once you mount the removable volume again, FreeSpace switches back to it.
With FreeSpace 1.0, you couldn't customize the menu display to, for example, show just a disk icon in order to conserve menu-bar space. Version 1.1 offers a number of options for choosing what gets displayed in the menu bar: It can display just a drive icon or that icon plus the available free space, and for the latter, you can choose whether to display the free space as an integer or with 1, 2, or 3 decimal places, and whether or not to display units (KB, MB, GB, or TB).
Other new features let you eject internal drives (except for the boot volume, of course) from the menu, and sort volumes within groups by name, free space, or mount time. Multiple network shares on a single server or host are now grouped together in the menu, and if a drive has multiple partitions, moving the pointer over any one partition's eject button highlights the eject buttons for all those partitions, making it clear which volumes are part of the same drive.
These changes make FreeSpace even more useful and, for those with crowded menu bars, a more-responsible menu-bar citizen. It remains my favorite current utility for keeping an eye on your free drive space, as well as for quickly accessing and unmounting volumes.