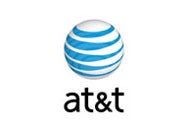 Growth in mobile services largely due to smartphone sales pushed AT&T revenue up 1.8 percent, with a 5.2 percent increase in revenue for the first quarter of 2012 compared to the year-ago quarter, the company reported Tuesday.
AT&T reported revenue of $31.8 billion for the first quarter of 2012, up from $31.2 billion for the first quarter of 2011. Net income was $3.6 billion, up from $3.4 billion.
The company pointed to growth in its mobile services as a large reason for its overall growth. AT&T sold 5.5 million smartphones during the quarter, a first-quarter sales record for the company. Smartphones accounted for 78 percent of AT&T's postpaid device sales, and more than 59 percent of the company's postpaid customers now have smartphones.
The company reported that it activated 4.3 million iPhones in the quarter, with 21 percent of those activations coming from customers new to AT&T. That means a full 78 percent of the smartphones AT&T sold were iPhones.
The company added 726,000 mobile customers during the quarter, bringing its mobile customer base to 103.9 million.
AT&T's mobile revenue was up 5.4 percent, to $16.1 billion from a year ago. Mobile data revenue increased by more than $1 billion, or 19.9 percent, to $6.1 billion.
"We continue to capitalize on our terrific momentum in mobile Internet," Randall Stephenson, AT&T chairman and CEO, said in a statement.
The carrier reported earnings per share of $0.60, beating analyst expectations of $0.57.
On AT&T's wireline side, the company reported revenue of $14.9 billion, down 0.8 percent from a year earlier. Wireline net income was up 2.4 percent, to $1.8 billion. Wireline business revenue was $9.2 billion, also down 0.8, but the declines were the slowest in three years, the company said in a press release.
But growth in broadband mostly offset other wireline declines. Residential broadband revenue was $5.4 billion, up 1 percent. AT&T's U-verse television service added 200,000 customers during the quarter to reach 4 million customers. The company's U-verse broadband service added 718,000 customers to reach 5.9 million.
After factoring in losses of DSL customers, the company added a net 103,000 broadband customers during the quarter.
While company officials pointed to strong quarterly results, independent telecom analyst Jeff Kagan said the company's growth appears to be slowing.
"There is nothing wrong with AT&T as a company," Kagan said in an email. "It is a rock solid company. However, as a hot investment, it may be cooling. At least until the next big wave hits."
Smartphones are still selling, but at a slower rate than when Apple's iPhone and Google's Android devices were first introduced, Kagan said. "There are changes in the wireless industry we will start to see in coming years," he said. "This was expected. No trend can run forever. Not even wireless."