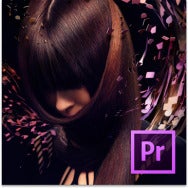 With the launch of its Creative Suite 6 and its companion Creative Cloud, Adobe has unveiled its professional editing package, Premiere Pro CS6. Whereas Premiere Pro CS5's most notable features—64-bit processing and the Mercury Playback Engine—were under the hood, many of CS6's new features are evident at a glance. Here are the details.
Premiere Pro CS6 has undergone a comprehensive redesign that not only affects the software's overall look and feel, but also facilitates a more efficient editing workflow. The new release is also designed to integrate with two Creative Suite newcomers: Adobe Prelude for ingesting and logging file-based media, and Adobe SpeedGrade, a color correction and grading tool.
Monitor Panel improvements
Cutting raw footage into a finished sequence is the central activity of any non-linear editor. Accordingly, the displays for the source and edited video are the interface's most prominent feature—and the most conspicuous change in Premiere Pro CS6.
Premiere Pro CS6 replaces the inelegant layout of playback and editing controls found in previous versions with a more streamlined arrangement that you can customize and even hide. Using the new Button Editor, users can choose which buttons to include in each monitor and, equally importantly, which to omit. Monitor display options can be accessed more easily via a convenient button below each view, rather than from a less noticeable pulldown menu in the panel's upper corner.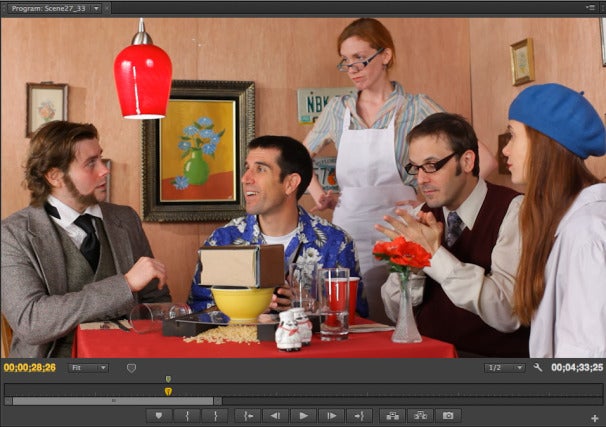 Editors who favor keyboard shortcuts to buttons can hide the controls altogether, allocating both more screen space and attention to the video image. Similarly, time rulers in each view no longer include timecode numbers by default, further minimizing distractions.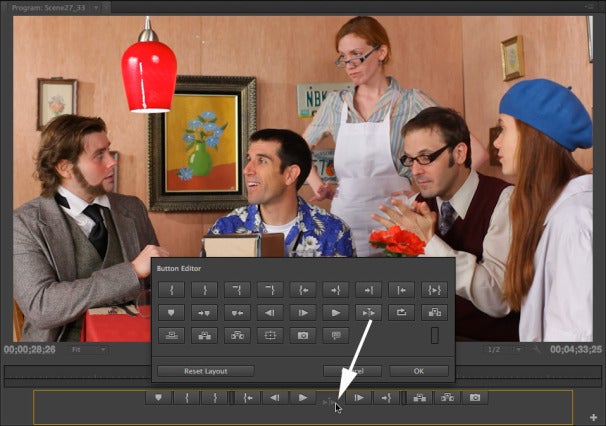 Playable, resizable icon views
Although the Project panel's icon view has always provided thumbnail images of video assets, playback was possible only in a secondary preview area of the panel. Premiere Pro CS6's icon view obviates the need for the preview area by endowing each video thumbnail with playback capability.
Not only can editors play back a selected thumbnail using the standard J-K-L keyboard shortcuts, but they can also scrub the video by simply moving the mouse pointer over the thumbnail. You can even use standard shortcuts to set in and out points without opening a clip in the Source Monitor.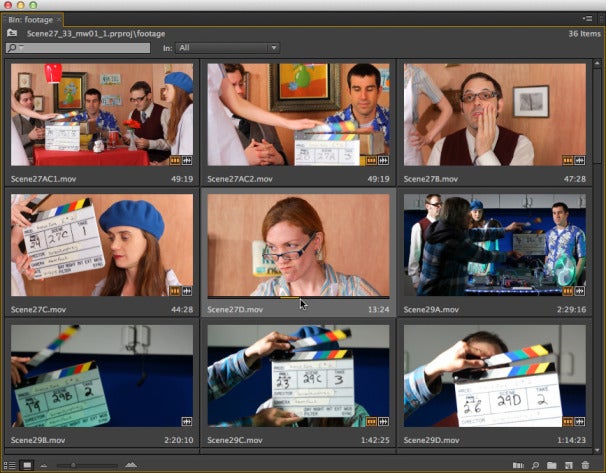 In previous versions, resizing the Program panel could force you to rearrange icons within a fixed grid; CS6 dynamically shifts the thumbnails to fit the panel as you resize it. A slider lets you change the size of thumbnails. The same icon view features are also present in the Media Browser panel, where you can browse and preview assets before importing them.
Enhanced markers
Clip and sequence markers are useful in several ways. However, using them hasn't been a straightforward process. In Premiere Pro CS6, editors can set markers with a simple keyboard shortcut and the color and placement of marker icons make them easier to spot. Setting a duration for a marker—which had been limited to sequence markers only—is now possible for both sequence and source clip markers. A new Markers panel makes it easier to find and edit markers, and makes it possible to set multiple markers on the same frame.
Better audio meters and mixer
Premiere Pro's master audio meters have always been lackluster; they provided only a crude indication of the output levels, and didn't scale according to the size of its panel. In CS6, Premiere Pro's audio meters finally live up to the rest of the program, scaling according to how you resize the panel, and re-orienting horizontally if you want. They also allow you to solo an audio channel.
Along with updated master meters, Premiere Pro CS6 also incorporates several subtle changes to its Audio Mixer. Its controls have a cleaner look and, like the master meters, scale up and down according to the size of the panel. You can choose whether peak indicators are dynamic or static, display valleys (indicating the lowest levels), and change the meters' dynamic range.
Audio in the timeline is also more flexible. Instead of requiring a different type of audio track for mono and stereo clips, a sequence can include an agnostic Standard audio track.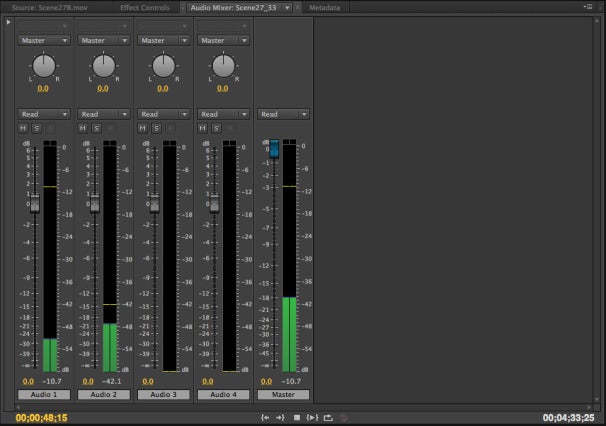 Enhanced editing procedures
When you invoked the trimming mode in previous versions of Premiere Pro, the program opened a separate floating window, which was both inelegant and inconsistent with the interface. In CS6, the trimming mode temporarily replaces the image in the program monitor with a display of the frames on either side of the cut. In both trimming mode and in a Timeline, it's easier to perform different types of edits without a trip to the Tools panel. More impressively, you can use standard J-K-L keyboard controls to perform the type of edit you specify. Multi-camera editing—once limited to four camera angles—now handles as many angles as your system's horsepower permits. At the same time, the procedure for setting up a multi-camera sequence has been simplified.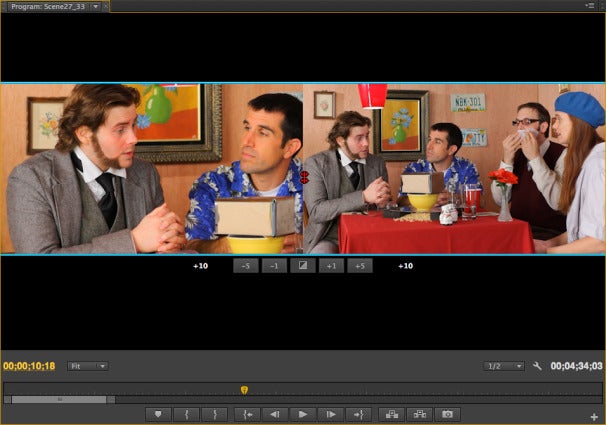 New effects
Premiere Pro CS6 makes its three-Way Color Correction effect more intuitive, introduces a Rolling Shutter Repair effect, and borrows After Effects' Warp Stabilizer effect, which smooths jerky handheld footage. But the day-to-day editing will benefit more from the ability to apply an effect to selected clips by double-clicking, and the availability of adjustment layers that can impart the effects they contain to underlying clips.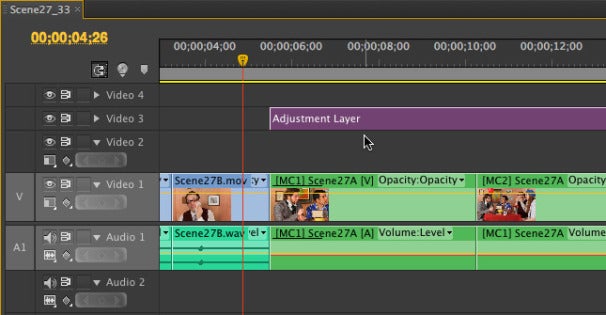 Performance and support
Not all of Premiere Pro CS6's features are on the surface. The Mercury Playback Engine technology, introduced in the previous version, now takes advantage of more types GPUs, including those found in certain MacBook Pro configurations. Adobe says it increases video performance even without GPU assistance. The list of developers who utilize the Mercury Playback Engine has increased, as has the list of supported file types.
Integration
Adobe continues to strengthen the ties among various members of the Creative Suite. The included Encore DVD authoring software has caught up with other software by becoming 64-bit native. To help manage an ever-growing list of included and custom presets, the Adobe Media Encoder (AME) incorporates a new Preset Browser panel. Enhanced Dynamic Link promises smoother integration with After Effects. CS6 also carries over CS5.5's improved integration with the Adobe Story scriptwriting tool, as well as a round-trip audio sweetening workflow with Adobe Audition.
Exit OnLocation, enter Prelude and SpeedGrade
Premiere Pro CS6's entourage now includes two new programs, Prelude and SpeedGrade, available as separate programs or as part of the Production Premium, Master Collection, or Creative Cloud.
Situated near the end of the post-production process is SpeedGrade, a new program dedicated to color correction and grading. SpeedGrade offers primary and secondary correction layers, as well as numerous film-style filter presets.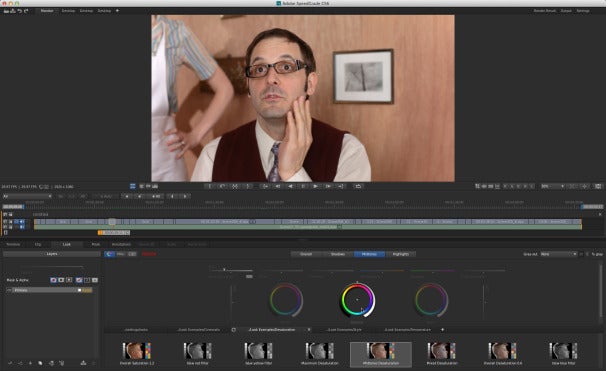 At the beginning of the post-production workflow is Adobe Prelude, a program designed to assist with ingesting and logging file-based media. Prelude lets you ingest full or partial media files and, if necessary, transcode them into an intermediate editing format. It's also a logging tool that enables you to attach temporal markers, comments, and tags as metadata that can follow the media throughout post-production.
With the advent of Prelude, Adobe has opted to discontinue OnLocation, which provided production monitoring and measurement tools via a connected laptop. It also allowed tape based cameras to capture directly to disk, and provided metadata-driven logging features. But with the predominance of file-based media (not to mention cameras with built-in measurement tools), Adobe has shifted its attention from OnLocation to its new product, Prelude.
Stay tuned
Along with the rest of the Creative Suite and Creative Cloud, Premiere Pro CS6's release is slated for the second half of 2012. Macworld will have a full review then.
[Antony Bolante hosts Lynda.com's Premiere Pro CS4 Essential Training and the documentary he co-produced, on the nOse, is being developed into a multi-media live show.]