For all of our advances in technology, getting a recommendation on what movie to watch still largely hinges on a sweater-clad film critic and the position of his thumb. Surely in this age of miracles—when a powerful computer controlled entirely by taps and swipes can fit comfortably inside a pocket—there can be a more tech-savvy solution to the age-old question of what movie to watch this evening?
Perhaps there is such a solution somewhere. But it sure isn't Movie Genius Pro.
Like the most self-assured of film snobs, the iPhone/iPod touch app from Renniksoft pooh-poohs the idea of using actors and directors to recommend movies. Instead, Movie Genius Pro vows to compare movie plots, suggesting films with similar subject matter and style to the ones you enjoy. I'm not sure of the formula Movie Genius Pro is using to come up with these recommendations, but it needs a lot more fiddling from the boys in the lab coats.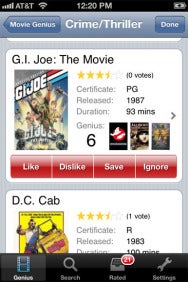 The best thing to be said about Movie Genius Pro is that it's a pretty straightforward app to use. It serves up nine categories worth of movies—War/Western, Comedy, SciFi/Fantasy, and the like. Tapping any one of those categories brings up a list of movies, with the Motion Picture Association of America rating, release date, run time, and a movie poster. You can tap on the entry to get more information about the film if you like, but you'll want to concentrate on the row of buttons at the bottom of each entry. Tapping either the Like or Dislike button tells Movie Genius what you think of a particular film, helping the app formulate recommendations. Rate enough movies, and the app will start floating films that contain a high Genius score to the top of each category—basically the app's way of saying how simpatico it expects you to be with a particular movie.
In addition to the Like and Dislike buttons, the app also features Save and Ignore designations. The former saves movie suggestions to a list that you can peruse later when trying to determine your next Netflix suggestion. (Movie Genius Pro seems geared more toward the rental market than current releases; in my testing, only one or two movies currently in theaters showed up in the app's recommendation lists.) The Ignore button banishes a movie from the app's recommendations, and it's a surprisingly important button to utilize. Otherwise, a movie will remain in your recommended list for eternity, no matter how disinterested you are in ever seeing the 2000 Freddie Prinze Jr. comedy Boys and Girls.
The problem with Movie Genius Pro becomes apparent the moment you delve into the categories: The app defines movie genres so loosely that films end up being in sections where they have no business. Peruse the Family/Animation section long enough, for example, and you'll stumble upon A Very Harold & Kumar Christmas, which, while funny enough, wouldn't exactly fit anyone's reasonable definition of a family movie. A movie called Black Christmas, which is also in the Family/Animation section, is described thusly: "An escaped maniac returns to his childhood home on Christmas Eve, which is now a sorority house, and begins to murder the sorority sisters one by one." Family fun! The romantic comedy Sleepless in Seattle is classified as a Drama/Music movie, as is the X-rated 1970s cartoon Fritz the Cat. (You can use the app's settings to filter out NC-17 movies, of which there are quite a lot in Movie Genius Pro.) Cartoons, from Rugrats Go Wild (which I found in the Action category) to an animated short featuring Mater from Pixar's Cars franchise (found in Comedy), are everywhere in the app—except where you might expect them to be.
If Movie Genius Pro makes this much of a hash out of categorizing movies, how well can it be expected to recommend movies based on your likes and dislikes? If you've asked yourself that question, you've hit upon the central failing of this app. Movie Genius Pro correctly surmised that I would like Saving Private Ryan based on my stated appreciation for Full Metal Jacket and Miller's Crossing, among other movies. But it also looked at my love of the World War II-themed Band of Brothers mini-series and concluded that I would enjoy D.C. Cab, a 1983 ensemble comedy featuring Mr. T. At one point in my testing, I indicated that I was a fan of the 1930 adaptation of All Quiet on the Western Front; in return, the app recommended G.I. Joe—not the 2009 live-action movie, but rather the 1980s cartoon. If you're telling me that liking a somber anti-war picture from eight decades ago means I'm also going to thrill to the sight of Duke and the rest of Joes battling Cobra Commander, I'm sorry, but I'm going to have to ask that you show your work.
We could spend the rest of the day picking through Movie Genius Pro's recommendations, finding more howlers than hits. Suffice it to say, you'll be better off sticking with that sweater-clad film critic and his judgmental thumb than parting with $5 to be told you'll probably enjoy Steven Spielberg's wheezing comedy 1941 because you also like L.A. Story and The Empire Strikes Back. A free version—Movie Genius—limits you to six categories (up from one, until a recent update). The recommendations in Movie Genius aren't any less spotty than in the Pro version, but at least you can save some of your hard-earned cash for a movie ticket.
To be fair to both versions of Movie Genius, it's possible that the apps' recommendations get better the more time you invest in sharing your likes and dislikes. But to be fair to me, that's time I'm not willing to invest in an app like this.
[Philip Michaels is the editor of Macworld.com.]