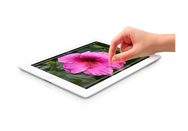 The iPad isn't just big business—it's also becoming the technological equivalent of a gateway drug into the wider universe of Apple products, helping the company extend its customer base to new audiences.
"The iPad has taken off not only in consumer in a meaningful way, but in education, and in enterprise, and it's sort of everywhere you look now," Apple CEO Tim Cook said during Tuesday's first-quarter earnings call.
That was confirmed by NPD Group, a market research firm, which reported on Thursday that one in four iPad owners say the device is their first-ever Apple product. The iPhone and iPad have combined to account for one-third of all first-time Apple purchases made since 2010.
NPD's "Apple Ecosystem Study" was based on a survey of 3,000 customers in February—prior to the March 16 launch of the new iPad. Until recently, the iPod was the device of choice for first-time Apple buyers, NPD reported, but the trend has shifted toward the iPad.
"I think there's still a big universe of people who can be brought to the iPad," said Ben Arnold, NPD's director of industry analysis.
That information dovetails with what Macworld found when the new iPad launched in March: First-time buyers of the tablet were a common sight in the queues that formed in front of Apple retail stores, and in some cases were enticing people to the Apple brand.
In Philadelphia, for example, Sherri Davenport, 42, came to the Apple Store on the new iPad launch day. She owned a BlackBerry phone—and was a former iPhone owner. The iPad lured her back to Apple.
"The new features they provided were enough for me to jump on the bandwagon," she said.
Apple reported Tuesday that it sold 11.8 million tablets during the fiscal second quarter—which included the new iPad launch—up from 151 percent in the year-ago period. Company officials on the earnings call noted the importance of new customers to that growth.
"The iPad continues to open new doors to customers with whom Apple had no previous relationship," said chief financial officer Peter Oppenheimer.
Cook said he believes the iPad can continue to drive the company's growth.
"I think that the limit here is nowhere in sight," he said Tuesday.
"We've now—through the last quarter, I should say, which is just two years after we shipped the initial iPad—we've sold 67 million. To put that in some context, it took us 24 years to sell that many Macs, and five years for that many iPods, and over three years for that many iPhones, and we were extremely happy with the trajectory on all of those products."
It's not just household consumer use, however, that will drive that adoption, Cook said. Enterprise use of the tablet is a major component of the iPad's growth.
"I'm pleased to report that 94 percent of the Fortune 500 are testing or deploying iPads, and 75 precent of the Global 500 are testing or deploying iPads. These numbers are just off the charts for a product that's only 24 months old," Cook said, and added: "It's absolutely the most broad-base product I have ever seen in my whole career in terms of adoption rate into the enterprise."
iPad (third generation) family