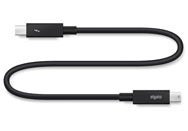 Thunderbolt revolutionaries rejoice! Apple's monopoly on Thunderbolt cables has finally come to an end, thanks to Elgato. As a follow-up to the Thunderbolt SSD released in March, Elgato's Thunderbolt Cable will be available on May 4.
Ever since June of last year, Apple's $49 Thunderbolt cable has been the only Thunderbolt cable in town, so it's nice to finally have a choice. Unfortunately, that choice isn't more affordable—Elgato's cable is $60. Not only that, but at 0.5 meters, Elgato's cable is much shorter than Apple's 2.0-meter cable. One way to look at it: Consider Elgato's cable more portable than Apple's cable, helpful if you're carrying a MacBook Pro or MacBook Air. And who doesn't hate tangled, messy cables? A shorter cable is much neater. Though a short cable may be a problem when setting up a Thunderbolt daisy chain.
Another way to look at it: Elgato's cable is black, while Apple's cable is white. Mac users are used to paying a premium for black—remember the MacBook, and the extra $150 you had to pay to get a black model?
If you actually want a longer cable, you'll have to wait for Sumitomo's Thunderbolt cables, which were announced on Wednesday. Unlike the copper Apple and Elgato cables, the Sumitomo cables are optical, and will be offered in lengths up to 20 meters. Sumitomo has yet to relase pricing information.