Taptu has tried to carve out a space for itself in the world of mobile news aggregators by compiling news feeds and social networks into one place. The latest update of the iPhone and iPad app looks to make sure that lone place for your news is accessible no matter what device you use.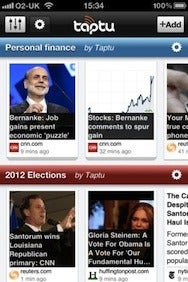 Version 2.1 of Taptu, released earlier this week, lets users synchronize their feeds across devices. The app now lets you login via Facebook, Twitter, LinkedIn, or Google Reader; when you're logged into that user account, your feed will automatically load on any mobile device running Taptu.
It's a much-requested feature, according to Taptu's developer, and for good reason. The app lets you build a page of curated streams featuring stories from several sources as well as streams from specific sites. You can also add streams from social networking services so that they appear alongside your news feeds. Previously, if you ran Taptu on both an iPhone and iPad, you'd have to customize your streams on each device. The 2.1 update removes that headache, even allowing you to synchronize your feeds between iOS and Android devices if that's how you roll.
This week's Taptu update adds another potentially welcome change: Taptu features an updated interface for its main page and story pages, with an eye toward simplifying navigation and sharing. The change looks to address one of more common criticisms of Taptu—an interface that some users found a bit cluttered.
Other changes in Taptu 2.1 include the ability to create a keyword-based stream, in which users can turn search terms into news sources. Third-generation iPad users will appreciate the fact that the updated app offers Retina display support. Legibility has been improved with a Readability partnership, and the app now features Spanish, French, and German localization.
Taptu is a free download that requires a free user account if you want to take advantage of the synchronization feature.