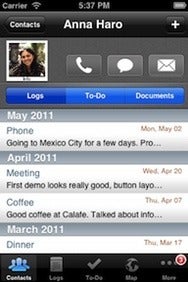 Zaal's Contacts Journal for iOS has come a ways since the last time we visited it. Version 3.0 of the lightweight CRM app, released this week, folds in several new capabilities, including the ability to link iOS documents to your contacts. You can import those files from your computer over Wi-Fi, via Dropbox, or even through email.
Contacts Journal already lets you maintain a list of contacts separate from iOS's native app, allowing you to import your contacts from that database or to create "private" contacts that are kept separate. Select a contact and the app gives you many of the same options as iOS's native app—you can phone, text, or email them—as well as additional information like linked lists of logs, to-dos, and now documents relevant to that person.
Documents can be added to Contacts Journal in a number of ways. However, thanks to iOS sandbox security, Contacts Journal can't automatically see documents attached to the email messages you've already downloaded.
Tapping the plus button lets you know that you can also transfer files by visiting the iPhone's IP address—which the app provides for you—in your computer's Web browser. Far easier, however, is to use the app's Dropbox integration or to tap the Open in… button often found when viewing documents in other apps. The Dropbox implementation even allows Contacts Journal to finish transferring files in the background once you've begun the sync.
After you've transferred the files, the app also gives you an interface to manage all of your documents, in case you need to, for example, remove one. Contacts Journal also offers an array of backup and export features.
Contacts Journal comes in separate versions for the iPhone and iPad; each version costs $10 and requires iOS 4.3 or later.
Updated 4/30/2012, 12:40pm: The original version of this story indicated that you could add documents to Contacts Journal using iTunes File Sharing. The developer says this isn't possible. In addition, in the version we looked at, you could view Contact Journal's SQLite database as a document in iTunes File Sharing; the developer said this is a bug that will be fixed in a future release.