I hope we can all agree that it's good that video cameras no longer burn the date and time into footage as they used to. If you missed this particular piece of video history, cameras had an option to include the date and time on every frame of video. (Many cameras can still do this.)
This feature has a couple of problems: You can never remove the mark because it's recorded to the film. And too often, the camera's internal clock wasn't set correctly, so the date and time was inaccurate.
And yet, sometimes you may want that information displayed, for documentary purposes or to establish, briefly, when the footage was taken.
All cameras invisibly encode date and time data to the footage they shoot. iMovie can reveal that information where you choose. Here's how to set that up in iMovie '08 or later.
1. Make sure the footage you want to mark is in an active project, and then click the Titles button to reveal the Titles panel.
2. Drag the Date/Time title from the panel onto the top of the footage. As you do, the clip is highlighted in blue; position the title over the middle of the clip to apply it to the entire clip, or move it to the beginning or end of the clip to add the title to just a portion.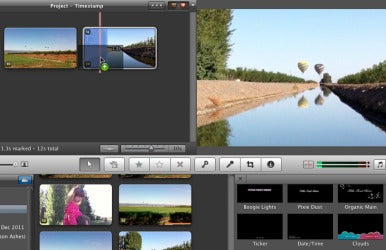 When the title is applied, the date and time appear in the lower left corner of the screen.
Unlike with other titles, you can't adjust the font or position of the text (but at least the letters don't look like they're from a 1980s alarm clock).
But what if your video has the wrong time? If your camera's clock wasn't set properly, you can still fix the time stamp in iMovie.
1. Select the clip in the Event browser.
2. Choose File -> Adjust Clip Date and Time, and enter the correct information.
Tip: Are you just looking to view a clip's date and time information for your own reference, and not for display on the video? Choose View -> Playhead Info to see a popover that reports the information when you mouse over a clip.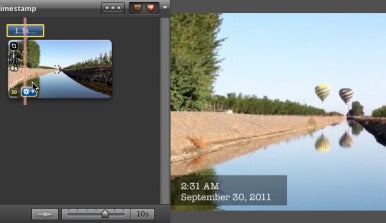 iMovie's Date/Time title is simple, but it works when you need to express that information. Moreover, you get to choose when it appears in your movie, not burned into your original footage.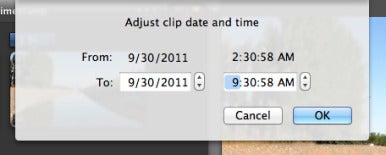 By default, time is displayed as minutes and seconds (such as 2.5s or 3:05.3), but you can also choose to view traditional timecode notation (also known as SMPTE—Society of Motion Picture and Television Engineers standard). In iMovie's preferences, select the option labeled Display time as HH:MM:SS:Frames (such as 02:15 or 3:05:10).
[Jeff Carlson is the author of The iMovie '11 Project Book (Peachpit Press; 2011) and is a senior editor of TidBits.]