We can now use our mobile devices for many of the tasks that once required a computer. Unfortunately, for the longest time, printing documents didn't feel like one of them.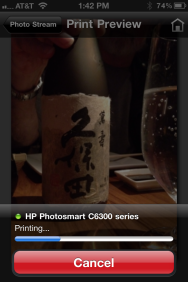 The situation improved when AirPrint became available, along with a gaggle of compatible printers from the likes of Epson, HP, Canon, and others. Yes, there have been improvements, but we still have a ways to go before printing becomes as ubiquitous and as easy on our devices as it is on our Macs.
While we wait for that day, we can still output prints right now from the iPad, iPhone, and iPod Touch. By spending a little time reviewing the iOS software available, and the Wi-Fi printers that can use it, we can configure a tidy workflow that will have us dishing out email attachments and photos faster than a short-order chef.
Not all of these configurations are AirPrint related. And for the moment, we're not bringing our Mac into the workflow either.
In the past we've covered popular workarounds that involve using the Mac as an intermediary device to manage the print jobs. One of our favorites is Printopia, which lets your Mac share all or any configured printers, no matter how they're connected to your Mac, with iOS devices on your local wireless network.
These solutions are terrific—if you don't mind having your computer as part of the printing workflow. But if you do mind, there are still options that allow direct communication between your mobile device and the printer. Here are some of the major ones available.
AirPrint
Let's take a look at the state of AirPrint, then move on to other options. iPhones and iPads with current operating systems (iOS 5.1 at this writing) can print directly to AirPrint printers that reside on the same Wi-Fi network. I've tested this capability with my iPad 2 and iPhone 4S using Pages, Keynote, Mail, Photos, and Safari.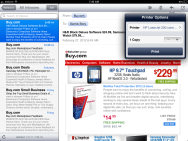 The concept is straightforward. If you're viewing a picture you took in the Photos app on your iPhone, tap the Share button and you'll notice the Print option at the bottom of the list. Tap it, and you move to a second dialog that has two options: Printer (selection) and Number of Copies. Tap Printer to select an AirPrint device on the same Wi-Fi network. Now all you have to do is tap the Print button to output one copy of your photo.
It's simple, but your options are limited to selecting how many copies you want to print. That's it. Image size defaults to something around 4-by-6 inches regardless of the printer you're sending it to. If you want another size, you'll have to use a different app. If all you have is letter-sized paper in your AirPrint printer, then you get a snapshot sized photo placed somewhere on an 8.5-by-11-inch sheet.
Pages and Keynote printing for iOS are a bit more intelligent. You can print full letter-sized output of the projects you create. Plus with each, you're provided with a Page Range setting to control what gets printed and what doesn't.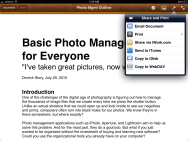 To send a job, click on the wrench icon in the upper right corner, tap on Share and Print, tap on Print to set up the job, then tap Print once again to send it off.
Printing email from the Mail app isn't too painful, as long as you want to print the entire document—no page range controls here. But the output looks pretty good. If there's an attachment, you can also print that. Again, without much control over its appearance.
This lack of control really comes into play when trying to print webpages from Safari. You can quickly end up with a 10-page document with bits and bobs of the webpage on different sheets of paper.
Print Agent Pro 1.8.5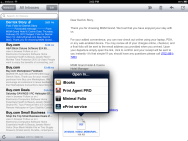 To improve these AirPrint scenarios, consider a third-party app that provides more control when setting up the job. Dar-Soft's Print Agent Pro is a good example.
There are two versions of the iOS software: iPad for $6 and iPhone for $4. Both aim to do the same thing—make AirPrinting more functional. Once installed, you can easily open email attachments using the Open In command, available in Safari and Mail. Once you open the document in Print Agent Pro, you have control over the paper orientation, page range, number of copies, and some nice extras such page numbering.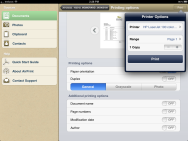 Print Agent Pro also allows you to copy items to the Clipboard from anywhere on your device, and then print that information. It also has hooks in your Contacts app, enabling the printing of a single or multiple contacts on one page. If you want to print a screenshot from your iPad (from a webpage or from another app), first make the capture (hold down the Home and Power buttons simultaneously). Your device will send the image to the Camera Roll. Open the screenshot from the Camera Roll in Print Agent Pro, then use its controls to get a perfectly formatted letter-sized output.
Printer manufacturers' applications
iOS apps such as Epson iPrint and HP ePrint Home & Biz often provide more functionality to their own printers than using the generic AirPrint commands.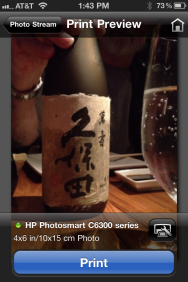 HP ePrint Home & Biz 4.1 The HP app, for example, connects to a variety of HP printers on the same Wi-Fi network, regardless of whether they are AirPrint enabled or not. It allows you to print saved documents that you store in the app itself. On my iPad, I keep a model release stored for quick output after a shoot.
Printing photos from your Camera Roll or Photo Stream is also straightforward. Choose the image on your iOS device, select the paper size (3.5-by-5, 4-by-6, 5-by-7-inch, letter, and A4 are available), then choose the paper type, and tap the Print button. The output is generally quite good, especially from iPhone 4S photos.
The HP app includes its own Web browser that provides better print output than Safari on iOS. The problem is that the browser is very slow, and it has a hard time building previews of complicated websites. I found it too slow, even on an iPad 2, for me to rely on. Too bad. It's a good idea.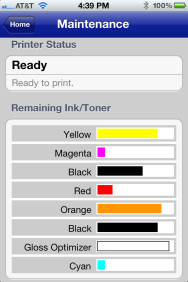 Overall, the free HP ePrint Home & Biz iOS app is a gem. It connects to a large number of HP printers, and adds many of the controls that you'll want when printing documents and photos.
Epson iPrint 2.2 This terrific iOS app allows you to send jobs to a variety of Epson Wi-Fi printers, including the R2000 wide format photo printer. First you point the app to the Epson device on your Wi-Fi network. There are plenty of settings available to help you configure the job to your liking. For printing photos, start with paper size—you have 12 options ranging from 3.5-by-5 all the way up to 10-by-12 inches. You can choose between Standard and Best print quality, Borderless or Border, number of copies, and Advance Settings. In that second dialog you can set Color or Monochrome, Print Date, Brightness, Contrast, and Saturation.
Another bonus is the ability to check ink levels on the printer using the iOS app. If you want to know how much ink is left, just open Espon iPrint and take a look. Very handy!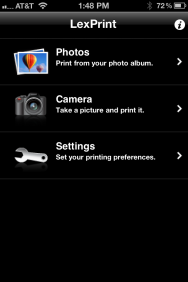 The output is beautiful. If you have an Epson Wi-Fi printer and an iPhone 4S, you may find yourself printing photos far less often from your Mac. And if you have a multifunctional Epson printer, documents are a snap too.
Lexmark LexPrint 3.1 Lexmark's entry into the iOS app derby is a handsome one, with a good set of options including Print Quality (Draft, Normal, Photo), Print Size (eight sizes ranging from 3-by-5 inches to Legal), Scale to Fit, and Number of Copies.
My problem with the app is that it could not see my Wi-Fi-enabled S600 Lexmark multifunction device. The app encouraged me to download LexPrint Listener for my Mac to spool the jobs from the iOS device to the printer. Having to do so dampened my enthusiasm, leaving my Lexmark printer out of iOS the horse race.
Printing apps that require additional software
When you search for printing applications in the Mac App Store, you'll see quite a few results that may look enticing at first. Be sure to read the technical information and reviews before purchasing. Many of these applications require that you install additional software on your Mac in order to send documents to a Wi-Fi printer. In these cases, the Mac acts as a print spooler.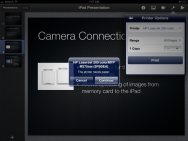 If you don't mind this sort of thing, then you might be quite the happy camper. Just know what you're purchasing before making the leap.
Bottom line
AirPrint printers provide easy output, and the technology is sure to improve. In the meantime, you can enhance its functionality with apps that provide more options, such as Print Agent Pro.
Another route, and one that tested well with Epson and HP Wi-Fi multifunction printers, is to review the manufacturer's iOS apps before making a purchase. If the printer you're considering is supported, and you like the looks of the iOS app, then you can happily print photos and documents without AirPrint.
[Senior Contributor Derrick Story teaches digital photography on Lynda.com and runs a virtual camera club at The Digital Story.]
iPad (third generation) family