Reader Gregg Andrews has an iOS device here and files there and wonders how to bring the two together. He writes:
My company keeps a lot of work files on an FTP server. When I travel I'd like to take just my iPad rather than both an iPad and a laptop, but I need to access those files. Is there any way to do that?
Sure. All you need to do is install an FTP client on your iPad and you're (mostly) good to go. (I'll get to the mostly in a bit.)
Just as you would with a program like Transmit or Fetch on your Mac, you fire up your iPad's FTP client, enter the address for the FTP server, and your username and password and you'll see the server's files.
The App Store features a load of FTP clients. I use LessIsMore Development's $2 FTP Client Pro as it's easy to use, allows me to view compatible documents within the app, and, if it can't open some files, lets me download and then open them in a different app. It doesn't support SFTP or FTPS and its interface is really bare bones, but it satisfies my mostly meager needs.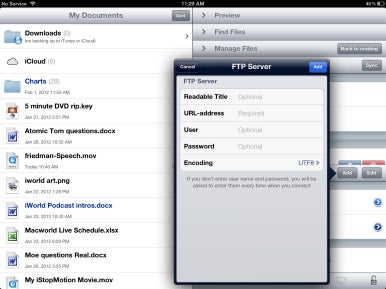 If you already have a copy of Good.iWare's $5 GoodReader (and honestly, why wouldn't you?) you can save the two bucks. It can connect to a load of different servers including FTP and SFTP and, like FTP Client Pro, lets you download files from an FTP server as well as upload files. GoodReader is worth having for many reasons.
If you need a more advanced FTP client that supports SFTP and FTPS as well as allows you to manage an FTP server, take a look instead at Headlight Software's $10 FTP On the Go Pro. It's a very complete client, but may be overkill for those who aren't managing files on an FTP server. But if you are, its ability to edit text files and change file permissions could be a life saver while on the road.
Now, about that mostly. You can have the greatest FTP access in the world, but if your iPad isn't capable of opening the files you find on your company's server, that access does you very little good. For this reason, it's absolutely worth your while to download and attempt to open some of the kinds of files you might need on the road—before you get on the road. If you find a particular type of file that won't open and—after scouring the App Store and Internet—discover that it can't be opened by any existing app, you'll have to bring your laptop along for the ride.