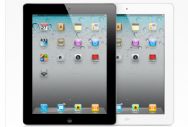 When Apple's third-generation iPad ( ) was released in March, the company kept the iPad 2 ( ) as a more affordable option. It turns out, however, that the iPad 2 sold prior to March 16 and those sold after the launch of the third-generation iPad differ in more ways than the $100 price drop.
As reported by sites like AnandTech, the folks at Chipworks discovered that Apple is using a different production process for its A5 processors. The company switched from using Samsung Semiconductor's 45nm process to Samsung's 32nm process, reducing the size of the chip by 41 percent.
The smaller size could mean better performance or lower power consumption. To see if we could find any measurable performance differences between the two versions of the iPad 2, we purchased a brand new model and ran our standard set of tests on them.
In our performance tests, we found the two iPad 2s to be nearly as identical as their outside appearances. The 32nm iPad 2's Sunspider score of 1.8 was identical to that of the 45nm iPad 2. The two iPad 2s also posted identical results for the NY Times page load. The GLBenchmark 2.1.1 offscreen graphics scores went from 88 and 146 for the 45nm iPad 2, to 90 and 147 for the 32nm iPad 2. Geekbench 2 results came in at 753 for the 32nm iPad 2, about 1.6 percent slower than the 45nm iPad 2.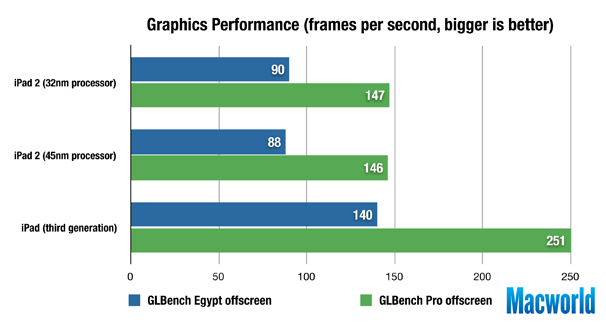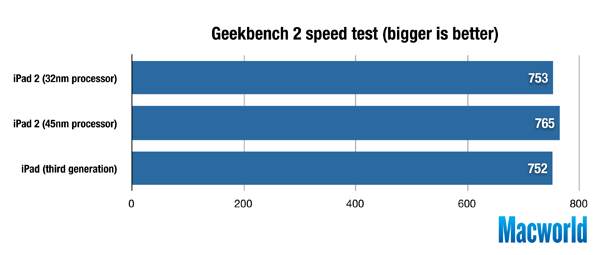 I also ran our regular battery tests twice on the iPad 2s. Playing a movie at full screen, volume on low, set to full brightness, and connected to a local Wi-Fi network, the 32nm iPad 2 lasted 8 hours and 45 minutes. When we tested the 45nm iPad 2 for the review of the third-generation iPad, the 45nm iPad 2 lasted 8 hours and 30 minutes—the 32nm iPad 2 lasts just 3 percent longer.
However, when I tested the 45nm iPad 2 for this article, it lasted 8 hours and 6 minutes—the new 32nm iPad 2 had 8 percent longer battery life. The loss in battery life in our 45nm iPad 2 can probably be attributed to wear and tear, since it's been used over and over for benchmarks and battery tests. We wish we had a brand-new 45nm iPad 2, but we don't, and there's no easy way to get one.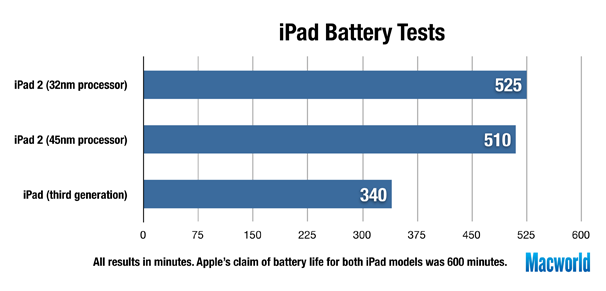 As we've seen in previous iPad battery tests, the third-generation iPad, with its brighter, higher resolution screen and quad-core graphics, was only able to last 5 hours and 40 minutes when playing the same movie with the same, full brightness, settings.
[James Galbraith is Macworld's lab director.]