There's winning going on out there in the smartphone wars and the Macalope is sorry to say it's not being done by Apple, friends.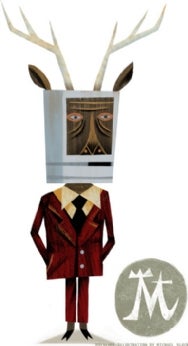 Yes, according to Don Reisinger writing for CNet, Samsung is pulling away from Apple in the smartphone market.
It's no secret that Samsung and Apple are battling it out for smartphone dominance. But it appears Samsung is, at least for now, winning the war.
Winning!
How! Do! You! Like! Them! Apples! Apple?!
[butter churn]
During the first quarter, Samsung shipped 42.2 million smartphones worldwide, earning it 29.1 percent market share, according to a study released today by research firm IDC. Apple, meanwhile, shipped 35.1 million iPhones, helping it to secure 24.2 percent market share.
Yes, market share is all that matters. Scan Reisinger's piece and you won't find the words "revenue," "profit," or "satisfaction" anywhere. All categories in which Apple, of course, leads Samsung. The company continues to have the single most popular phone (well, if you can call it a single phone anymore) and still makes all the money.
[Juniper Research] estimates that Apple's mobile revenues were $29.3 billion, when including the iPad. By comparison, Samsung's revenue from all mobile devices including feature phones came in at $17 billion.

The stark difference arises from the gross margin that each company makes from its mobile device sales. Samsung's gross margin is at just 12.9 percent overall, which is in some part due to its willingness to compete at the lower end of the market where margins are tight. Apple's gross margin remains the envy of the tech industry at a significantly higher 47.4 percent.
But other than that, Samsung is "winning".
So, congratulations, Samsung! By making 9,000 different models, you've been able to fill every "Island of Misfit Toys" niche of the market! 3D phone? Check! Projector phone? Check! Ludicrously large phone with a stylus? Check!
Samsung has something for every niche need. Well, except the niche for the best all-around smartphone with a terrific user experience. That was taken by another company.
But that's Samsung's business model and that's OK. It works pretty well for the company. Not as well as Apple's works, but pretty well. Well-ish.
As an aside, if you want to make yourself progressively stupider, read the comment section of the CNet piece where you will be told, amongst other things, that you need to "stop it with your apple coolaid iSheep" (that's verbatim).
Seriously, the Macalope got about ten comments in before he realized he had forgotten how to add fractions. After 15 comments in, he found himself wondering whether gravity was the result of competing furies. And 20 comments in, flandangle the monkey bits with Zanzibar mayonnaise.
Just one question to those who think that Apple needs carriers to push its phones, and who predict imminent doom for Apple because carriers are going to start pushing Samsung and Nokia phones: If that's true, how come iPads sell so well while Samsung's mom won't even buy its Android tablets?
[Editors' Note: In addition to being a mythical beast, the Macalope is not an employee of Macworld. As a result, the Macalope is always free to criticize any media organization. Even ours.]