Over the next few days, Google plans to bring Gmail's Labs translation service to all Gmail users. The service enables users to automatically translate email in other languages into their own language. The company is also retiring eight Gmail Labs features.
Google first introduced the message translation feature as a Gmail Labs project in 2009. According to the company, the feedback was favorable, including from Google Apps for Business users who found the feature was useful for working with teams across the world. "Some people just wanted to easily read newsletters from abroad," wrote Jeff Chin, product manager for Google Translate in a blog post on Tuesday.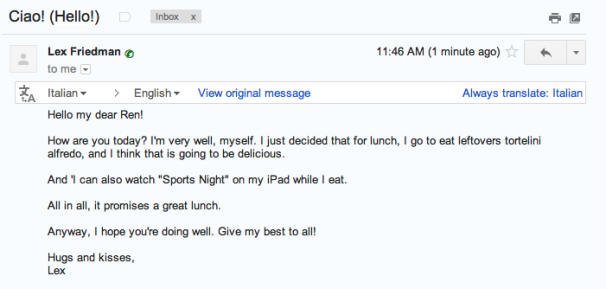 "Since message translation was one of the most popular labs, we decided it was time to graduate from Gmail Labs and move into the real world," he added.
Now, Gmail can remember to automatically translate certain languages into your own language by selecting "Always Translate", or you can translate on a per-email basis by using a translate message option. You can also turn off translation for a language entirely.
Title Tweaks and Smart Mute features are also being moved out of the lab to general use. Unfortunately, these moves also bring about the retirement of several less popular Labs features, including the game Old Snakey, Inbox Preview, and custom date formats.