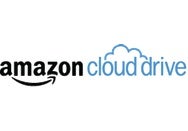 The roster sort of sounds like Santa's reindeer roll-call: On Dropbox, on SkyDrive, on iCloud, on Google! And now, Amazon becomes the latest company/sleigh-puller to dive into the Desktop Cloud Storage Wars of 2012.
Amazon Cloud Drive initially launched more than a year ago. Starting Wednesday, Amazon began offering the Amazon Cloud Drive desktop app for Macs running Snow Leopard or Lion. (There's also a Windows client for Vista and Windows 7, if you roll that way.)
You get 5GB of storage free with Amazon Cloud Drive. You can pay for more storage, with easy pricing: At each level, the price is a dollar per gigabyte; the 20GB plan costs $20 per year, with plans also available at 50GB, 100GB, 200GB, 500GB, and 1000GB storage levels. You can store unlimited Amazon-purchased MP3s on any plan; with the paid tiers, you can also store an unlimited amount of digital music acquired elsewhere. The service's pricing isn't quite as affordable as Microsoft's for SkyDrive, which charges $10 per year for 27GB, $25 per year for 57GB, or $50 per year for 107GB. That said, Amazon charges about half of what Dropbox does for similar storage tiers.
Installing Amazon Cloud Drive is simple enough: You simply drag the app to your Applications folder and then launch it. When you first run the app, you get prompted to log in to your Amazon account. The app lives in your menu bar with a hollow cloud icon.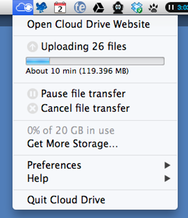 In a decided difference from its competitors, Cloud Drive doesn't create a specific folder whose contents sync automatically to your Amazon-hosted storage. Rather, you drag the files (or folders) that you'd like to upload onto the cloud icon in your menubar; it sports a green checkbox (and displays an on-screen alert) when your upload is complete. Your documents won't automatically stay in sync—you need to upload them again if you make changes that you want stored in Cloud Drive.
You can also Control-click (right-click) on documents or folders on your desktop and choose Upload to Cloud Drive. Note that this contextual menu option won't appear until you restart your Mac after installing Amazon Cloud Drive.
To download files from your Amazon Cloud Drive, oddly enough, you need to visit the Cloud Drive website.
It's hard to say whether Amazon's move to further entrench itself on the desktop as a cloud storage solution is out of character. After all, what exactly is beyond the purview of a company that already serves as a massive Internet retailer, movie streamer, Kindle maker, Web service provider, and IMDb runner?
At any rate, despite some interface limitations, Amazon Cloud Drive certainly works for quickly storing your documents online. If you prefer full two-way sync, however, you may prefer one of its (ever more numerous) competitors.