Decide, the Seattle-based company behind decide.com launched an iPad edition of its shopping app on Thursday, which aims to help shoppers get the best deals on consumer electronics and home appliances.
Decide gives users the ability to shop for and compare prices of more than half a million household products from tablets and televisions to vacuums and refrigerators.
The free app gives users buying advice based on its own data-driven price predictions. Browse by category or search for a specific product. Decide will give you a price along with a recommendation of either "Buy" or "Wait" based on whether prices are likely to rise or fall within the next two weeks, and whether a newer model is currently available or on the way.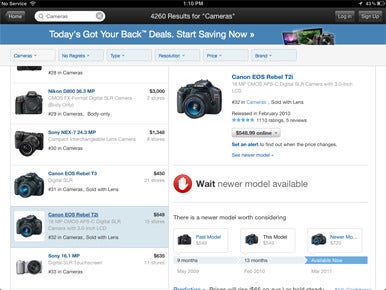 Decide emphsizes that its price predictions are data-driven and shows prices along with a confidence rating, which the app says is based on previous predictions, and a graph tracking the product's price history.
Shoppers can also use Decide to read product reviews, compare prices, and find online and nearby retailers. You can also set price-tracking alerts to find out when the price for a specific product changes.
Though you don't need to sign-up for an account to use the app, registered users are eligible for Got Your Back Deals, a new daily deals program that offers users a selection of several different bargains every day for up to 50 percent off.
The deals come with the Got Your Back Guarantee, which states that if the app gets it wrong—if it recommends that you "Buy" now, and the price of that product drops within two weeks—you will automatically be reimbursed the difference.
Decide works with the iPhone, iPod touch, or iPad running iOS 5 or higher. The Got Your Back deals are exclusive to the iPad app.