Eat, drink, and be Harry! This week's roundup of iOS apps features new ways to travel, make cocktails, and play games as your favorite Hogwarts wizard.
Already this week, we brought you news of Spotify's revamped—and newly iPad-optimized—music-listening app; the launch of the new Decide price-comparison app; and two App Guides featuring the best of recently updated games and weather forecasting apps.
Additionally, Skype and eBay offered updates to their iPad offerings. And The Daily—Rupert Murdoch's effort to create an tablet-based newspaper—launched its iPhone-only app.
Here are other new and updated apps that caught our eye this week.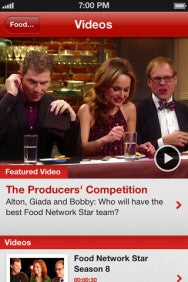 Food Network on TV: This free iPhone app is actually a relaunch of the offering formerly known as Food Network Nighttime. The old app was mostly a multimedia guide to the network's on-air schedule—featuring some video clips—but Food Network on TV goes further to satisfy the appetites of its voracious fans, offering popular full-length episodes to digest, as well as a portal to the network's blog and Twitter feeds for those of you who need between-show snacks. Bon appétit!
Food & Wine Cocktails: If you need just the right alcoholic beverage to go with the meal the Food Network app inspired you to make, never fear: Food & Wine magazine has launched its new Food & Wine Cocktails app for the iPhone. The app includes recipes for more than 350 drinks, as well as a "definitive" guide to the country's top 100 bars and lounges. Now you'll be ready to try making your very own Screaming Viking, instead of ordering it at your local watering hole. That's the spirit!
Frommer's: This company has long been the publisher of some of the best travel guides around. Now—as first noted by the folks at Paid Content—it has joined with textbook app developer Inkling Systems to offer those guides as apps for the iPhone and iPad. Each destination has its own app, ranging in price from $10 to $15. This week saw the release of Frommer's first seven apps, including guides to France, Great Britain, and (perhaps most exotically) California. Each app features photos of your destination, as well as weather forecasts and itinerary guides—and everything can be highlighted and bookmarked for later reference.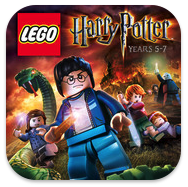 Lego Harry Potter: Years 5-7: Listen up, muggles: If you're a game-loving, iOS-device-owning Harry Potter fan, we probably don't need to actually describe this app to you. All we have to say is that for $5, you can own Lego Harry Potter: Years 5-7 for iPhone and iPad. But we will tell you the game lets you take control of Harry and his friends during his last year at Hogwarts, and do battle with the villainous Lord Voldemort. There are 25 achievements to unlock, and for another dollar you can buy the Dueling Club Expansion that lets you master advanced dueling skills by competing against the top witches and wizards in the Potter universe. It truly is magical.
SnipSnap Coupon App: The free SnipSnap Coupon App lets you convert paper coupons into a digital format, then redeem those coupons at stores by showing your iPhone to the checkout clerk. Once you get a coupon—in the mail, or in a newspaper—you can snap a picture of it. The app scans the important information, including barcodes, then saves it for later. If a coupon's about to expire, SnipSnap reminds you. And if you're near a store where a coupon can be redeemed, the app will let you know. This video shows how to actually use the app in a store—when you get ready to make a purchase, open the app, find the coupon, and hand it over to the cashier to be scanned. Who knew the iPhone could save you so much money?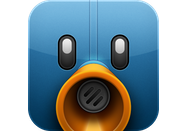 Tweetbot: There are many Twitter clients out there, but Tweetbot is often ranked at the head of the class. The latest update preserves that well-earned status, offering a number of new features—including Droplr file-sharing support, the ability to immediately share Twitter conversations to Storify, and the addition of thumbnail support for Vimeo links. The app doesn't just offer integration with other services, however: It also includes support for several new navigation gestures, including the improved ability to jump between conversations and your entire Twitter timeline.