On Monday SRS Labs announced the iWow Universal (iWow-U), a hardware adapter meant to improve the audio quality of sound coming from any device with a standard 3.5mm headphone jack.
The iWow-U plugs into the headphone jack on almost any smartphone, tablet, computer, or even game console, and seeks to improve the quality of music, videos, movies, and games; and then lets you connect it to headphones, speakers, or car audio systems.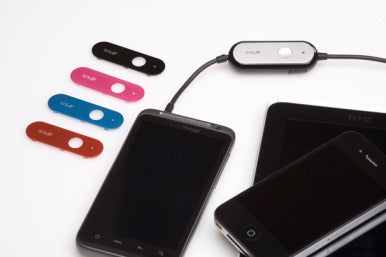 As SRS describes it, the iWow-U, "retrieves audio cues that are buried deep within the original source material to restore the integrity of the original recordings, providing an immersive three-dimensional sound stage with renewed depth and clarity, as well as deeper bass."
It features a single-button on/off control and up to six-hours of battery life, with a mini-USB port for recharging. The iWow-U includes specialized tunings for headphones and car audio systems, supports the in-line controls on headphones that have them, and passes through the microphone signal as well.
This latest product is a follow-up to the iWow 3D for iOS devices ( ), which plugs into the 30-pin dock connector found on iPods, iPhones, and iPads, and is thus limited to Apple's devices. In his Macworld review, Christopher Breen said it often made sound sparkle, "in the form of slightly increased volume, a wider sound stage, and more clearly defined lows and highs."
The iWow-U will be available later in May for $70. It comes in black, with a separate model (no pricing announced yet) offering four interchangeable face plates (black, red, blue, and pink).
[Updated at 8:04am pacific to add price.]