After building in an extra four days of anticipation, Adobe has now made available its Creative Cloud software suite. Creative Cloud, a set of pro-level applications that target individual artists, graphic designers, videographers, and others in the creative arts, was originally slated to be released alongside Creative Suite 6, which made its debut on Monday morning. At the last minute, Adobe decided to hold the release of all of its subscription services and upgrades for several days to make sure they were all working properly and to ensure the smoothest user experience.
Two years in the making, Creative Cloud now offers Adobe's creative software for download to your desktop—the entire CS6 collection and more—to individuals at a flat rate of $50 per month, based on a year's subscription. Month-to-month subscriptions cost $75 per month. A special introductory offer of $30 per month for CS3, CS4, CS5, and CS5.5 individual customers is also available. Adobe has more details about the special offer on its website.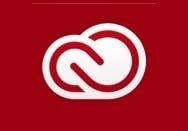 Adobe's brand new Creative Cloud includes, but is not limited to, all CS6 applications plus an assortment of subscription-only online apps and services. Membership is available to customers in 36 countries and in multiple languages.
Bundled into four distinct packages, CS6 features upgrades of Photoshop and Photoshop Extended, Premiere Pro, InDesign, Dreamweaver, After Effects, Illustrator, Flash Professional, Audition, and Fireworks, as well as companion apps Bridge and Encore. It also debuts two new video-related software packages—Prelude and SpeedGrade.
Muse and Touch releases
With the release of Creative Cloud, Adobe has also released the first commercial version of Adobe Muse, which enables designers to create HTML 5-based websites without writing code. It's available only to Creative Cloud members and included in the overall price of the membership, or via subscription to individuals at $15 per month with an annual subscription, and $25 per month for a month-to-month subscription. Adobe has more information about Muse 1.0 on its website.
In addition, two new Touch Apps—Adobe Proto and Adobe Collage—are now available for iOS devices, as are new features and additional language support for both Photoshop Touch and Adobe Ideas.
Cloud debut
Creative Cloud focuses on four major aspects of artistic workflow: Delivering content creation tools; integrating sync and storage services to and from the cloud; publishing services for creating websites, digital publications and mobile apps; and updating current and future software releases.
In addition to the slate of 14 CS6 programs and Muse 1.0, Creative Cloud features subscription-only software such as Edge Preview, an HTML 5 animation program; Business Catalyst, a content management system and Web host that works with Muse; TypeKit which provides Web fonts for site creation; Adobe Creative Cloud Connection for syncing and storing files, 20GB of online storage space that lets you sync and access content directly from Creative Cloud, and the Adobe Touch suite of applications.
However, even with the availability of Creative Cloud, users will have to wait for the service's more high-profile, long-term features.
For example, Adobe promises additional community offerings over time, such as support, training, and social networking. Additional software like Edge 1.0, the Digital Publishing Suite, Single Edition, for individual designers and small design shops creating one-off applications for iOS devices; and Lightroom 4 will also be added to the Creative Cloud offering later in the year at no additional cost. Team subscriptions for $70 per month, catering to workgroups rather than individual designers, complete with IT functionality and management tools, are also planned for later this year.
With a Creative Cloud membership, users will be able to use CS6 on two computers just like they are able to do with the perpetual-license product. However, one difference is that Creative Cloud provides flexibility of platform. For example, if you have a Mac at home and a Windows machine at work, Creative Cloud allows you to open your projects and the apps on both Mac and Windows. The same thing applies to the use of two languages.
Along with Creative Cloud, Adobe is also making the CS6 upgrade available via its Subscription Editions program, which debuted last year. Individual subscriptions for major packages such as Photoshop, Illustrator, InDesign, Flash Professional, Dreamweaver, Premiere Pro, After Effects, Audition, and SpeedGrade are $20 per month based on a year's subscription, or $30 a month for month-to-month subscriptions.
Education offering
Alongside the launch of CS6 and Creative Cloud for the professional community comes similar availability to the academic community. The Adobe Creative Cloud Student and Teacher Edition—coupled with the Adobe Creative Suite 6 Student and Teacher Edition—is targeted to educational institutions, teachers, and students, and designed to help K-12 and higher education institutions enhance teaching, learning, and career preparation via Adobe's software.
While there were always academic versions of Creative Suite products, Adobe is also delivering cloud connectivity to the academic community for all of its creative products. The Student and Teacher Edition of Adobe Creative Cloud is available for $30 per month. More details on educational pricing are available on Adobe's website. Volume licensing for Creative Cloud is available via the Adobe Transactional Licensing Program, with more information available on Adobe's website.
Adobe envisions students and teachers exploring, sharing, and delivering content with a variety of CS6 desktop tools, as well as its new HTML 5 tools, Muse and Adobe Edge Preview. And just like their professional counterparts, students would also use the Adobe Touch apps to create mobile workflows on the iPad and Android devices.
Adobe sees the cloud as the future of its creative software line because it provides flexible access to all of its applications and services for both limited and extended time frames, at a single price. Thus, the now-complete Creative Suite-Creative Cloud rollout offers the choice of purchasing applications the traditional way at 12-to-18-month intervals or via two types of subscriptions at an annual or month-to-month price.