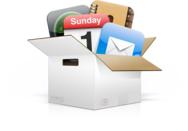 MobileMe users are getting three extra months of free iCloud storage upgrades as they make the transition to the newer service. In its FAQ explaining the transition, Apple quietly extended the deadline to September 30. The change was first reported by Japanese blog Macotakara.
Users of Apple's older, soon-to-be defunct online service still have until June 30 to move to iCloud; MobileMe will no longer be available after that date.
Under the terms of the extended deadline, customers of the $99-a-year MobileMe service who had 20GB of available storage will receive 20GB of iCloud storage for free until September 30; that much storage would otherwise cost $40 a year. MobileMe users who had purchased 40 to 60GB of storage will receive 50GB of free iCloud service, a $100-a-year value, until the new deadline. After that date, users can pay for those plans, or stick with iCloud's free 5GB of storage instead. Apple did not respond to a request for comment on the deadline's extension.
Launched in 2008 as a subscription service, MobileMe offered users online backup for their email, contacts, calendars, and other information stored on their Macs and iOS devices. But iCloud launched last year, offering many of the same services for free—including 5GB of storage.
MobileMe users will be able to keep their email addresses after June 30; they must however find a new Web-hosting option to replace the service's iWeb feature, as well as services to replace the departing iDisk and MobileMe Gallery services.