Reader Robert Zavod would like greater access to his photos from his iPhone. He writes:
When using my iPhone on the road, I'd like to access my iMac and its iPhoto library and move some of the images in that library to my iPhone. Is there a way to do that?
Yes. There are a couple of ways to approach this. The first is the dead-simple way (recently suggested to me by reader @snaab via Twitter) and the second is my original method, which can be more broadly helpful for communicating remotely with your Mac but is more complicated. We'll start with the simple solution.
On your iPhone download a copy of Tunaverse Media's free Blinq Photo app. On your Mac, travel to Tunaverse's website and grab an equally-free copy of Blinq for Mac. Fire up the Mac client and create an account (this requires that you create a username and password and enter an email address). Once your account has been created you'll be asked whether you'd like Blinq to use your iPhoto or Aperture library. Choose iPhoto.
Now shift over to your iPhone, launch the Blinq app, and log in with the account you just created. In a short while, your Mac will appear as one of Blinq's photo sources. Tap on the computer icon to view your iPhoto albums. Tap an album or event, select an image, and from the Action menu at the bottom-right of the screen choose Save to Photos App. The image is then copied from your iPhoto library to your iPhone. Regrettably you can choose to copy only one image at a time.
Now for the more complicated way.
That more complicated way is a two-step conundrum. The first is that you must find a way to access your iMac. The second is moving the images you want to your iPhone. We'll take them in order.
Although it really should go without saying, for this to work your iMac must be running. Also, you must have an iCloud account and the latest version of iPhoto. You additionally must select iCloud in Settings on your iPhone and enable Photo Stream.
Now that we have that straightened out, you'll next need an iOS app that allows you to connect to and control your Mac remotely. There are a variety of these app. I've used Edovia's $20 Screens VNC, the $20 iTeleport for iPad, and the $3 Splashtop Remote Desktop for iPad and each can do the job, both on the same local network as your computer and from across the Internet.
What these apps do is show you your iMac's screen on your iOS device. Using one gesture or another, you then navigate that screen just as you would if you were sitting in front of the computer.
Now that you can do that, remotely launch your copy of iPhoto on your iMac. Navigate to the images that you'd like to eventually see on your iPhone and select them. Move to the Share menu and choose Photo Stream. The images you selected will be uploaded to iCloud's Photo Stream.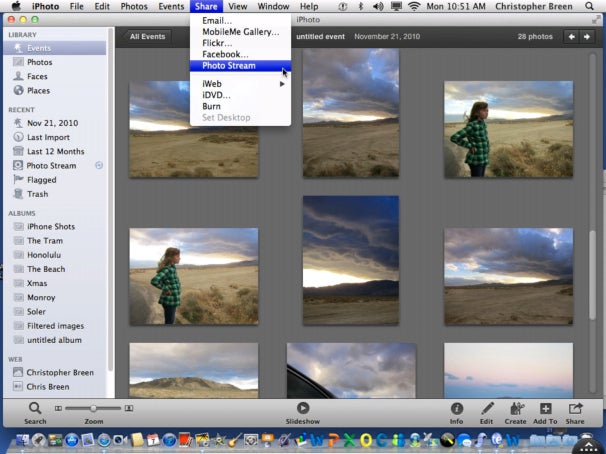 All you have to do now is wait for iCloud to work its magic. Eventually the images you selected in iPhoto will appear in the Photos app on your iOS device within its Photo Stream album.
Have a Mac 911 question of your own that you'd like to appear in this space? Just drop me an email message at mac911@macworld.com (no personal replies guaranteed). You can additionally follow me on Twitter.
Updated 5/7/12 12 PM to include information about Blinq Photo.