I've written quite a bit about installing Lion (OS X 10.7) and about the benefits of creating a bootable installer disc or drive. While the latter process isn't prohibitively difficult, it's still a bit of a hassle. Developer Guillaume Gète has made it a bit easier with Lion DiskMaker, an AppleScript-based utility that mostly automates the procedure.
Launch Lion DiskMaker, and it checks your Applications folder for a copy of the Lion installer app. Assuming it finds the installer in that location, Lion DiskMaker then asks if you want to create an installer DVD or a boot disk, with the latter meaning a flash drive or an external hard drive.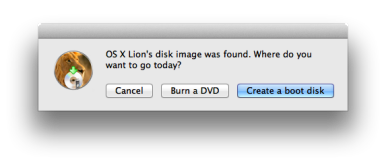 Choose Burn A DVD, and you're prompted to insert a blank, 4.7GB (single-layer) DVD. Unfortunately, you don't see a progress bar while the disc is being burned—the DVD is simply ejected when it's finished. On my 2010 iMac, it took about 17 minutes to burn the disc. You can boot from the DVD by inserting it into your Mac, restarting, and holding down the C key at startup to force your Mac to boot from the optical drive.
Choose Create A Boot Disk, and you're prompted to choose a volume: a USB thumb drive, an external hard drive, or a partition on another drive. After doing so, you also see a big, scary warning that this procedure will of course erase the contents of the chosen volume. But that warning also notes that if you've chosen a partition of a drive, the process will also erase all other partitions on that drive, as Lion DiskMaker will repartition the drive into a single volume. (A beta version, 1.7b1, of Lion DiskMaker allows you to use a partition on a multi-volume drive without affecting the other partitions.)
Click Erase Then Create The Disk to proceed. A Finder window with a name similar to E429CB27–52A4–42C8–849E–2486E7C3841A will appear, gradually populated by the Lion installer and the system files required to make the drive bootable. Again, you won't see a progress bar. Instead, you'll see a file named Copy in progress, please wait… Once this file disappears, Lion DiskMaker performs a few other tweaks, such as giving the disk a Lion-installer-volume icon. Finally, Lion DiskMaker displays a message that your bootable drive is ready. The process took around five minutes for me using an external USB drive. You can boot your Mac from the new drive by rebooting while holding down the Option key; when you see the OS X Startup Manager (the screen showing all bootable drives), choose the one with the Lion-installer icon.
What if you don't have a copy of the Lion installer in /Applications? If you previously moved the Install Mac OS X Lion app to a different folder or drive, Lion DiskMaker may be able to find the installer on its own; if so, you see a dialog box indicating that location, and you just click Use This Copy. Otherwise, Lion DiskMaker will let you manually navigate to the Lion installer app or—if you previously extracted the InstallESD.dmg file (the disk image containing the Lion installer data) from the installer app—to the installer image. Once you've selected the installer app or disk image, Lion DiskMaker proceeds as described above.
Lion DiskMaker works well, and, in fact, creates a nicer bootable drive than you get by performing the procedure manually. For example, Lion DiskMaker places the installer's Utilities folder at the root level of your bootable drive or disc for easier access to those utilities. And the aesthetes out there will appreciate that the mounted drive is called "OS X Lion Install" and its window looks like that of an official installer, complete with the large OS X logo.
On the other hand, Lion DiskMaker does have a few glitches. For one, if you wait too long to choose an option in any of Lion DiskMaker's dialogs, you'll get an AppleScript time-out error, and you'll have to start the process over. Also, if you've renamed the Lion installer—for example, I added (10.7.3) to the name of mine to indicate that it installs OS X 10.7.3—Lion DiskMaker will claim that the renamed app can't be used to make a Lion-install drive. Reverting the installer's name back to Install Mac OS X Lion.app allows Lion DiskMaker to use it.
I mentioned the beta version of Lion DiskMaker 1.7. I'm looking forward to the final version 1.7, because in addition to letting you use a partition of a drive without erasing the entire drive, Lion DiskMaker 1.7 will let you create a bootable Lion installer on a 4GB thumb drive—something the current version (as well as our manual procedure) can't do.