This week's roundup of new accessories proves that iOS is a full-body experience—we've got accessories for your ears, your chest, and even one that includes a gooseneck. Here are the new product that have caught our eye.
Audio-Technica: We've long been fans of Audio-Technica's ATH-ANC7b noise-canceling headphones, and the company has now introduced the $350 ATH-ANC9, a new, higher-end model. It sports an Apple-device-compatible, inlne remote/microphone module, and it has three different settings to block outside noise from interrupting your music: Mode 1 is for public transit, such as airplanes and trains; Mode 2 is for "noisy offices" and other places with midrange noise; and Mode 3 is for quiet locations such as a library. The headphones fold flat and can be carried in the included case.
Bang & Olufsen: There are two new iOS-compatible sound systems from this company: The $550 BeoPlay A3 is a wedge-shaped iPad stand—it can be propped up in either portrait or landscape orientation—that includes a two-inch speaker driver and two half-inch tweeters. The $1,150 BeoPlay A8 is an AirPlay compatible speaker system that lets you wirelessly stream music from any iOS device; it's designed to produce maximum sound whether hung from a wall, placed in a corner, or displayed in a freestanding position. The A8 is available in black or white.
Bracketron: We'll be honest: The name of the $35 MetalDock makes us want to raise our devil fingers and bang our head to 1980s hard-rock music. It turns out, however, that this is actually a dock cradle made out of metal. Compatible with only the iPhone 4 or 4S, the MetalDock is a right angle of metal that can hold your phone in portrait or landscape orientation while it charges. Rubberized feet hold the dock in place so it doesn't slide across your countertop while cradling your phone.
JoeyBra: Well, now we've seen everything. The $20 JoeyBra isn't an iOS-only undergarment—you can also stuff credit cards or other small valuables in the bra's side pockets—but its makers have touted the product's iPhone-carrying capabilities as one of the benefits. You can even run your earbuds under your shirt to listen to music and make phone calls while the JoeyBra is in use. The garment itself comes in only one design pattern, "sexy leopard." At press time, there was no word on the possibility of an iPad-compatible version. The JoeyBra ships in June.
Photojojo: Most of the Photojojo accessories we cover help make your iPhone into a better camera. The $70 ioShutter Camera Remote helps your iPhone make your camera a better camera. The Remote is a combination of an iOS app and a cable that lets you control your camera shutter using your iOS device. The Remote offers six modes, including a motion trigger and a time-lapse mode.
Satechi: The $45 iBase Dock Station is compatible both with the iPhone and iPad, among other devices. It features four neodymium drivers to provide clear audio while you listen to music or watch videos on your iOS device. (You'll be able to do that viewing only in portrait mode, however.) The iBase also includes a 3.5mm auxiliary-input jack, just in case you want to connect another audio source.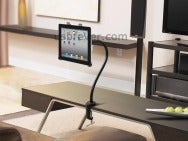 USBFever: Here's a product that gives you hands-free access to your iPad at any desk or table. The $65 Gooseneck Table Mount can clamp to any tabletop. As the name implies, your iPad then is accessible via a flexible gooseneck mount that lets you adjust the tablet's position for the best viewing. The mount works with all three generations of iPad, and it comes only in black.
iPhone 4S family
Price When Reviewed:
$599
iPad (third generation) family