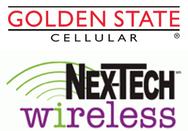 Your old Kentucky home isn't the only the place you'll find a new regional carrier for the iPhone. In addition to the already announced Bluegrass Cellular, the iPhone will also be landing at Kansas-based Nex-Tech Wireless and California's Golden State Cellular on Friday, May 18.
As with the other regional carriers, both Golden State and Nex-Tech will be offering the 16GB, 32GB, and 64GB iPhone 4S models at $50 discounts of $149, $249, and $349.
Nex-Tech, a CDMA-based provider which serves 40 counties of central and western Kansas and four Colorado counties, is offering four service plans—more accurately, two flavors of two separate plans. On the low end, you can get 700 anytime minutes and unlimited nights and weekend minutes for $70 a month with no SMS messages, or $80 per month with unlimited SMS.
If that doesn't quite meet your needs, you can opt for 1300 anytime minutes and unlimited nights and weekends for $90 per month with no SMS, or $100 per month with unlimited texting. All four of Nex-Tech's plans include unlimited data and require a two-year contract. (In addition, the iPhones are available on any of Nex-Tech's existing postpaid rate plans.)
Golden State also uses the CDMA standard, and operates in five eastern California counties. The carrier has three service plans to use with the iPhone: an $80-per-month option with 450 anytime minutes, unlimited nights and weekends, and 2GB of data; a $90-per-month plan with the same number of minutes, but 5GB of data; and a $120-per-month offering with unlimited minutes and 5GB of data. Each plan also offers unlimited SMS.
Nex-Tech and Golden State represent the twelfth and thirteenth carriers in the U.S., reemphasizing Apple's clear commitment that anybody, no matter where they live in the country, should be able to buy an iPhone. Unless, of course, they're on T-Mobile.