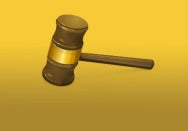 Responding to a U.S. district court judge's order, Apple and Samsung Electronics have trimmed the number of claims they will assert in a broad intellectual-property lawsuit regarding smartphone and tablet products.
Judge Lucy Koh of the U.S. District Court for the Northern District of California last week asked Apple and Samsung to boil down the case, which involves patent infringement and other claims, so a jury can comprehend the issues in a streamlined trial scheduled to begin July 30. Koh wants to give each side 25 hours to present its case.
In a filing late Monday, Apple stressed that a lot is at stake. "While the parties have been readying the case for trial Samsung has vaulted into first place in worldwide sales of smartphones, with massive sales of its copycat products," Apple said. However, in order to keep the current trial timetable, Apple said it would be willing to trim the number of claims it will assert.
"To preserve the July 30 trial date, Apple is willing to narrow the case on its patents for jury trial to four utility patent claims and a small set of design-related claims," Apple said.
The four remaining utility patents relate to Apple's multitouch functions. "Three of them relate to simple gestures that jurors will readily understand from seeing an iPhone in operation, and the fourth reads only on Samsung's two tablet products," Apple said.
The design claims cover multiple patents relating to, among other things, iPhone body style and icon layout design patents. Altogether, Apple is still claiming that a broad array of Samsung products violates these utility and design patents.
Apple said it is willing to drop, for the purposes of the July trial, claims including three utility patents, two design patent claims, all infringement claims based on the iPhone "trade dress" (visual characteristics of product packaging) and six trademark claims. In response to an earlier order by Koh, Apple had already dropped a variety of utility patent, design patent, iPhone trade dress and trademark claims.
However, Apple said it wants to reserve the right to ask for either a bench trial—a case decided by a judge, with no jury—or a separate lawsuit on at least some of the claims it is willing to drop for the current trial.
In its filing, Samsung said Apple has done little to streamline the case. "Apple's 'narrowed' design patent case has dropped only two of its seven design patents and done so in a manner that does little or nothing to streamline the case for trial," Samsung said.
Samsung noted, for example, that "Apple still asserts that various combinations of at least fourteen Samsung products infringe five design patents."
Responding to the judge's order to trim the case, Samsung dropped two patents from the lawsuit, reducing the total number of claims based on those patents. However, it still wants to proceed to trial on 15 claims from seven patents.
"With these reductions, Samsung has narrowed its case from twelve patents to seven, dropping 42 percent of its affirmative counterclaims. From a total of 75 claims identified by Samsung's experts as infringed by Apple's products, Samsung will drop 60 and only proceed on 15—a reduction in total claims of 80 percent," Samsung said.
Apple and Samsung also filed a number of motions Monday in which they skirmished over, among other issues, whether the judge should give Samsung more time to respond to Apple's request that the judge give adverse inference jury instructions.
The instructions would relate to Samsung's alleged destruction of evidence in the case, and would tell the jury to infer that any evidence that was destroyed would have supported Apple's claims.
Samsung has already been sanctioned by the judge for delays in producing documents requested by Apple.
Apple sued Samsung in April last year for violations of a range of Apple patents and trademarks in Samsung Android smartphones and tablets. Samsung countersued on patent claims. In February this year, Apple filed another, separate suit against Samsung, this time on products released after the first suit was filed. The companies are engaged in about 50 different lawsuits in multiple countries.