Reader Catherine Bailey is interested in marking her territory. She writes:
When I'm out with my iPhone I sometimes need to mark locations nearby. I try to do that by dropping a pin in the Maps app, but I can drop only one pin. Can I add more?
The ability to drop only one pin is a regrettable limitation of the Maps app, but you're not entirely out of luck. In Maps drop your first pin by tapping and holding on the iPhone's display. The familiar purple pin will drop down.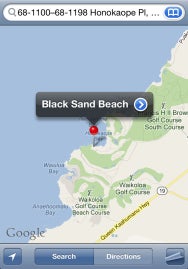 Tap on the blue > button on the right side of the small label that appears and in the resulting Dropped Pin window tap Add to Bookmarks. In the Add Bookmark window that appears, enter a name for your pin and tap Save.
Repeat this process for any additional pins you wish to drop. When you need to locate one of these locations, tap the Bookmarks icon in Map's Search field, and tap the appropriate entry. Maps will place a red pin at that location.