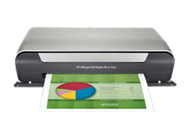 Hewlett-Packard on Wednesday announced the OfficeJet 150 Mobile All-in-One portable printer, which the company called the world's first mobile multifunction device that can "print, copy and scan on the go."
HP hopes to provide a printer, copier and scanner that users can carry on the road, just like laptops. At 6.8 pounds, the multifunction device is lighter than stationary inkjets, making it easy to move inside homes or between work sites. The printer measures 13.98 by 6.95 by 3.52 inches.
While the OfficeJet 150 is a breakthrough in design, the all-in-one feels as bulky as a high-end gaming laptop, and may not be practical to carry to work on a daily basis. The device is priced at $399, which is relatively high compared to HP's standard all-in-one inkjet multifunction devices, which are available starting at under $100. The OfficeJet 150 will start shipping worldwide in May.
The printer is targeted at mobile professionals such as contractors or insurance agents who need mobile printers as they move between locations, said Eric Killian, a product manager for printing at Hewlett-Packard. The multifunction device is also easier to share among multiple computers at home.
The all-in-one comes with a lithium-ion battery that allows users to print up to 500 pages on a single charge. The printer uses standard cartridges and print costs are roughly $0.12 per color page and $0.05 per non-color page, Killian said. The printer can print five black-and-white pages per minute, and three-and-a-half color pages per minute.
The OfficeJet 150 has a 2.36-inch color touchscreen to manage printing, scanning and copying. The device can print from Windows Mobile and Blackberry mobile devices via a Bluetooth 2.0 wireless connection. Printing from Apple devices such as the iPad or iPhone on the mobile printer is not yet possible, Killian said, adding that he could not comment on when it would become available. Some HP printers are able to print from Apple devices.
HP has designed a special bag in which the printer can be fitted, which is available separately for $90.
[Agam Shah covers PCs, tablets, servers, chips and semiconductors for IDG News Service. Follow Agam on Twitter at @agamsh. Agam's e-mail address is agam_shah@idg.com.]