More and more I find myself needing to take control of my PDF files. Whether it's forms from school that were once sent home as paper that now need to be downloaded from the Internet, contracts requiring digital signatures, or documents I've taken from scanned originals that need to be converted to something I can edit. Apple's Preview app is sufficient for the basics, but most days my workflow has involved some combination of printing, signing or filling in forms, then scanning and emailing the same. Not a very productive process and a waste of time and paper. Smile's PDFPenPro ( Mac App Store link) offers a complete set of PDF editing tools, making it possible to keep all of your forms digital, and, in many cases, giving you complete control over the content and creation of your PDF documents.
At first blush, PDFPenPro is a basic PDF viewing application. Open a PDF file and, as expected, the PDF content appears for your perusal. PDFPenPro defaults to an inconvenient page-at-a-time view that requires you to use the sidebar for navigation, but using the View menu you can change this to the zippier Continuous mode that allows you to scroll through your document's pages without having to reach for the sidebar.
Where PDFPenPro shines is when you have documents that have been scanned and saved in non-PDF formats such as tiff or jpeg. Open files like these and PDFPenPro offers to run an OCR scan on the document and turn every page into editable text. In a matter of seconds you've got a document that can be fully edited in PDFPenPro. Similarly, open PDF documents that contain fillable fields and you can use PDFPenPro to enter the required text. Better yet, if you have paper forms that have been scanned, you can use PDFPenPro's form tools to turn the scanned fields into fillable form fields that anyone else using most any PDF viewer can use to enter data.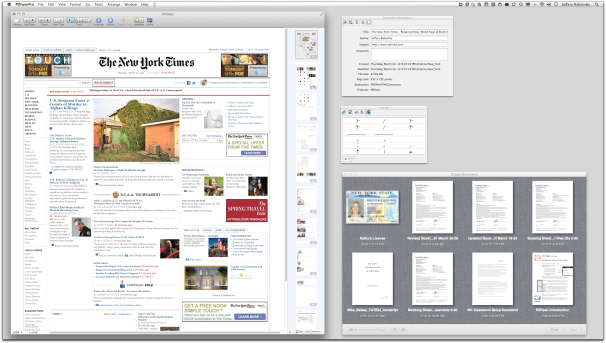 If PDFPenPro's OCR tools have a downside it's in how the application handles the OCR text that you want to edit. Select a word that you want to edit and select PDFPenPro's Correct Text button and PDFPenPro turns the entire line of text that word appears in into a text box that you can edit. Problem is that if you edit a couple of words here and there throughout the document you end up with a bunch of odd little text boxes in each location that you edited. Once created, these boxes are easy to accidentally move and once moved they are difficult to integrate back into the document in a way that makes them look like they belong there. I also found that there were vestigial bits of scanned letters on the page if I chose to edit any of the OCR text.
One of PDFPenPro's more formidable features is its ability to take any website, convert it into a document, links and all, and turn it into a navigable PDF document that includes all the images and formatting of the original Web pages. This feature works amazingly well and the resulting PDF files were fully editable, allowing me to easily rearrange images and text and add other markup to the extracted Web page.
Several other features that might fly under the radar but which are extremely useful are an indexing tool, that lets you select areas of your document, such as a paragraph heading, and turn it into a clickable index item which aids in navigation through the document. The app includes a library you can use to store reusable clips, such as your signature or logo, that can be quickly dropped into a document. PDFPenPro also offers iCloud support, so that any document you're working on is available on all your devices. iCloud support is free if you purchase PDFPenPro from the App Store, but due to Apple's policies about apps that can access iCloud, you'll need to buy the feature for $1 if you purchase PDFPenPro from the Smile online store.
Macworld's buying advice
PDFPenPro is an excellent PDF editing tool that offers even more features than it's possible to cover in this review. While I'd be happier with text editing options that have a more integrated feel, PDFPenPro makes editing a wide array of PDF files a snap. OCR, iCloud file sharing, document indexing, form editing, an a broad array of other features make PDFPenPro an excellent PDF editing tool and a supreme bargain.
[Jeffery Battersby is an Apple Certified Trainer, (very) small-time actor, and regular contributor to Macworld. He writes about Macs and more at his blog.]