The Mac App Store already has quite a few photo editing and cataloging software options, but on Thursday it gained one more: Lightroom 4.
While not Adobe's first entry into the Mac App Store, Lightroom 4 is perhaps the biggest name and most full-featured software offering to date. (You can read Macworld's review here.) Previously, the company had limited its Mac App Store ventures to its Elements line, which offers smaller, more compact versions of both Photoshop and Premiere. There's been no doctoring of Lightroom to make it Mac App Store-friendly, however: The program is identical to its Adobe Web store counterpart.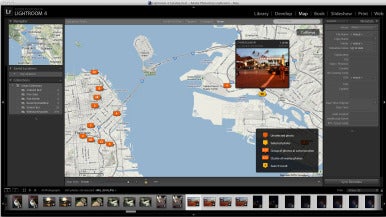 And Lightroom boasts a price worthy of its feature-set—$149, in comparison to Photoshop Elements's $80—though that's still a dramatic reduction from Adobe's previous iteration, which cost new users $299.
The app's introduction into the Mac App Store comes a few months after its March debut on Adobe's Web store for the same $149 price; there, however, users can also upgrade from a previous version for $79—something the Mac App Store doesn't currently support.
In a blog post on Adobe's website, the company noted that upgrade pricing for future versions of Lightroom may not be available for those purchasing the Mac App Store version, due to Apple's current lack of support for such a system; additionally, users may receive updates later than they would through Adobe.
All that said, for new Lightroom users, purchasing through the Mac App Store may arguably be a smoother experience than trying to wrangle Adobe IDs through the company's own online store. And the Mac App Store seems attractive enough to Adobe that it's willing to accept Apple's 30 percent cut of Lightroom sales.
If Lightroom does well in the Mac App Store, it's possible we might see other Adobe heavyweights come to the store in the future. Given Adobe's recent push toward Creative Cloud and subscription-based pricing, though, it's hard to understand precisely where the Mac App Store fits into the company's grand plan. Still, it's hard to argue with a store that's encouraging new users to download hundreds of millions of apps.
If its availability in the Mac App Store has you hankering to pick up Lightroom and you're in North America, you can purchase it for your computer (running OS X 10.6.8 or later on a 64-bit processor) for $149; there's also a free trial available from Adobe's site.
Updated at 9:30 a.m. PDT to add information from and link to Adobe's blog post.