This week's roundup of apps brings us big updates to some of our old favorites, as well as new ways to speak, travel, and take photos.
Already this week, we brought you guides to the best photo effects, sports video, and Mother's Day card-making apps in the iOS universe. And we saw that keeping your travel costs low will be all the rage this summer, with updates to the Yellow Pages and RoadNinja apps that help users find the cheapest gasoline prices in their vicinity. Also noteworthy: An update to the GarminFit app that lets friends and family track you when you go for a jog.
Other new and updated apps that caught our eye this week: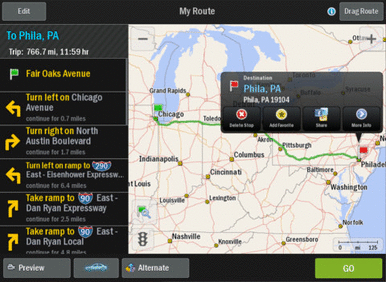 CoPilot GPS: If you've wanted to travel the road with the CoPilot Live navigation app, but balked at its $29 asking price, developer ALK Technologies has an alternative for you: The free CoPilot GPS app for iPhone and iPad offers 2D maps that can be stored on your device for offline use; it also offers you up to three different routes to choose when trip-planning, and includes the ability to post your travel plans to Facebook and Twitter. Not everything is free, however: If you want features like voice-guided instructions, 3D maps, or speed limit warnings, you'll have to pay for in-app upgrades. The developers warn, however, that you'll probably want to use the 3G- and 4G-enabled iPads if you use the app on a tablet: You can use the Wi-Fi-only iPads, but you won't get the GPS guidance.
Evernote: Our favorite apps aren't just good—many of them are constantly being improved. So it goes with Evernote, the free productivity app for iPhone and iPad. The app already lets you save articles, jot down notes, record voice reminders, and keep pictures in a permanent personal archive. This week's update includes a host of upgrades to those features, including an upgrade to "more powerful" note-editing tools, added support for your iOS device's Photo Stream images, and a redesigned audio recorder. Users also gain more control over their information in this upgrade, including the ability to turn off the app's automatic "save to Camera Roll" function.
Instacast: This was already one of the most-popular iPhone podcatchers around. But Vemedio's $1 Instacast iPhone app underwent big changes to its user interface this week, adding an AirPlay button and a sleep timer, the ability to share your podcast's playback position via email and Twitter, the power to pause and cancel downloads, and the ability to re-order your podcast downloads according to your priorities. The app's price has also been reduced from $2—though you can spend $2 for an in-app upgrade to Instacast Pro, which offers users the ability to manage playlists, adjust playback settings on a podcast-by-podcast basis, and receive push notifications of new episodes.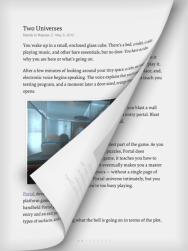 Instapaper: It seems like it's only been a few weeks since developer Marco Arment last released a big upgrade to the popular $5 offline-reading app. Wait. It has been only a few weeks! But there are some important changes here— Arment rewrote the pagination code so that users who want to swipe "pages" of a story (instead of scrolling down) can do so faster; he has also given them the option of using iBooks-style page animations. The app now includes a draggable dot bar to replace the scrollbar when it's in that pagination mode. Other changes include a new two-finger swipe gesture to close articles, improved sharing functions, and a few bug fixes.
iTranslate Voice: There are any number of translation applications that will take your written text and convert it to another language. The $1 iTranslate Voice app for iPhone works a little differently: Speak into it, and you'll hear your sentence played back to you—in any of 31 different languages. Using the app's voice-recognition features, you can look up foreign words and their definitions, then share that information via mail, text, or Twitter. Users who feel silly shouting Italian phrases into their phone can also type the words they want translated. Cool as it is, the developers warn that the app is not a replacement for a professional translator—"yet." Ciao!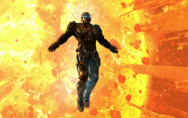 N.O.V.A. 3: In space, no one can hear you blow stuff up. That's not really a problem in the $7 N.O.V.A. 3 for iPhone and iPad. In the game, you play Kal Wardin, a character who returns to Earth after 10 years in exile—but believe it or not, new challenges arise that require Kal to once again save mankind. You can play in a ten-level campaign, or you can join 12 multiplayer battles in six multiplayer modes, all while running, shooting, driving, and flying.
Twitpic: Twitpic's been around almost as long as Twitter itself; it's one of the most-used services for linking and displaying pictures on the social network. Now the company is offering the free Twitpic app for iPhone that lets you do more than just upload your pictures. You can do modest edits like cropping, adjusting for brightness, changing the orientation, and even adding some Instagram-style effects. You will literally see your iPhone pictures in a whole new light.