Moving an item between two different folders or drives usually involves opening two Finder windows: one for the folder currently hosting the item, the other showing the place to which you want to move the item. (Mac OS X's pop-up folders can help, but they still require that the destination folder, or some folder or drive enclosing it, be visible in the Finder or in the Dock.) Similarly, if you use OS X's Mission Control or Spaces feature, or the full-screen mode of Lion (OS X 10.7), it can be a hassle to move files and content between applications and workspaces.
Back in January, I reviewed Yoink, a utility that gives you a virtual shelf for temporarily storing content. DragonDrop ( Mac App Store link) is a new utility that offers similar functionality, albeit in a package that's simpler but less intrusive.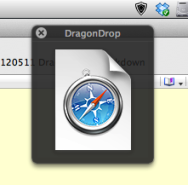 With DragonDrop running, you simply drag an item—a file, a folder, text from a document, a photo from a webpage—onto the DragonDrop icon in the menu bar. A small shelf appears, floating above all other windows and displaying the item's icon; the shelf follows you across workspaces and full-screen apps. Once you navigate to the destination, you just drag the item off the shelf to move it to the destination; the shelf disappears.
Alternatively, DragonDrop offers an option to automatically bring up its shelf whenever you shake the pointer while dragging content. In other words, once you start dragging an item, just jiggle the mouse—the DragonDrop shelf appears directly under the pointer, letting you quickly store the item. The shelf remains in that location until you remove the item. (You can also manually reposition the shelf.) If you prefer this approach, you can disable the DragonDrop menu to free up some menu-bar space.
In addition to letting you move files and folders in the Finder, DragonDrop also lets you move, say, text from one document to another, or even an image from one browser tab to another. You can also drop multiple items onto the shelf, although they must be part of a single drag-and-drop action—each time you drag an item to the shelf, the shelf's previous contents are cleared.
As with all drag-and-drop operations in the Finder, dragging an item from the shelf to a different drive copies it; holding down the Option key when dragging forces a copy, leaving the original in place; and holding down the Option and Command keys creates an alias to the original file, leaving the original in place.
Interestingly, when you drag text from a document onto DragonDrop, if you later drag that text to the Finder (rather than into another document), you don't get a text clipping. Instead, you get a document matching the original format—a text file or an RTF file, for example.
DragonDrop's menu also features Cut, Copy, and Paste commands. These are a bit confusing, as they don't work the way you'd expect: If you have data on the OS X Clipboard, choosing Paste copies that data to DragonDrop's shelf for dragging to a destination. If you've dragged content into DragonDrop, choosing Copy adds that content to the Clipboard for pasting elsewhere.
Unfortunately, DragonDrop doesn't show the name of the file, folder, or other content sitting on its shelf. This is usually fine if you're moving only a single item, but if, say, you're using DragonDrop to move several documents, one after another, it's easy to forget which one is currently on the shelf. I also found that DragonDrop occasionally froze when dragging content off the shelf.
Like Yoink, DragonDrop is a nifty utility that makes it more convenient to perform the common action of moving files, folders, and other content between folders, applications, and workspaces. DragonDrop doesn't offers as many features as Yoink, but it's simpler and a bit more elegant.