Sports fans have it easy nowadays. We have team blogs, websites, Twitter feeds and up-to-the-minute video clips on demand. Yet for all these conveniences, fans still have to do the legwork of subscribing to feeds or following the tweets of players or beat writers. The Team Stream and Team Stream HD apps from Bleacher Report aim to make it easier for fans to find and follow content on their favorite teams.
Despite its association with Bleacher Report sports site, the Team Stream app contains news and updates from a variety of sources across the blogosphere. These sources include select team-centric blogs as well as the Twitter feeds of star players and beat writers from your favorite team. While the focus is on Bleacher Report content, it is nice to see other sources featured as well.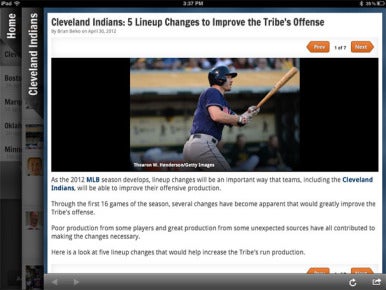 While Team Stream includes these additional sources, the apps stop short of offering a true stream of team news due to a lack of customization. There's no way to add additional blogs, for example, or Twitter feeds, for that matter. You cannot remove content, either. It's a take-it-or-leave-it proposition.
Team Stream and Team Stream HD offer one click, "set it and forget it" updates on your favorite teams and national stories. Both apps offer breaking news and score update notifications. In testing, I often learned of breaking news through these notifications, often times only seconds after the news appeared on Twitter. The notification settings alone are arguably the most useful feature of the Team Stream apps.
The Team Stream and Team Stream HD apps are virtually identical except for the way that the HD iPad version displays larger pictures with headlines in the stream. The apps are so similar, in fact, that I wonder why Bleacher Report didn't just release a single universal app for both platforms. Nevertheless, the layouts and user experience remain similar on both the iPhone and the iPad.
While the Bleacher Report content is interesting enough in its own right, Team Stream makes it frustrating to navigate posts longer than one page. This is because Team Stream divides content amongst several pages, presumably in an effort to boost page views. This is maddening enough on the actual Bleacher Report website—its presence in the iOS app is frustrating to say the least. While both apps are free and ad supported, the ads largely stay out of the way at the bottom of articles and I never found their inclusion to intrude on the reading experience.
No social sports app would be complete without social media integration. Team Stream allows users to link to their Facebook and Twitter accounts for sharing. Users can also email links to content as well as save content to Instapaper for later reading. Social sharing worked as expected in testing.
Although it isn't perfect, Team Stream offers sports fans an easy way to follow the latest news on their favorite teams without subscribing to a bunch of RSS or Twitter feeds. It offers convenience at an unbeatable price. Either version of Team Stream is worth a look from any fan seeking an easier way to keep up with their favorite team in one easy-to-digest format.
[Brendan Wilhide is a diehard and long suffering Cleveland Indians fan and a frequent contributor to Macworld.]