The best news aggregation apps make it very easy for you to assemble your favorite social networks and news sources into one attractive package. ChannelCaster—a free offering for both the iPhone and iPad from OneLouder—doesn't quite measure up to that standard. At least, not yet.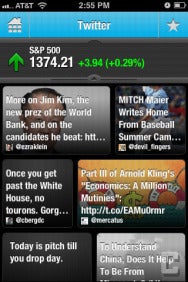 ChannelCaster avoids the magazine-style display of headline and stories that was popularized by Flipboard and Zite, and it also eschews the grid-style format favored by many other aggregation apps, like Pulse. Instead, ChannelCaster utilizes an elegant third option: A tiled layout reminiscent—especially in its iPhone version—of the Windows Phone user interface. Yes, that's a good thing.
Tap one of those tiles, though, and the layout becomes much less attractive. You can pull feeds from Twitter, Facebook, Google Reader, and a variety of other sources to customize your ChannelCaster experience. Unless you're importing a "full" RSS feed, however, the effect is ungainly: In the story view, you see the text and URL link of a Twitter or Facebook status at the top of the page; underneath that is a headline and maybe some summary text; beneath that is a box to tap if you want to read the whole article—it takes you to the full web version.
All of this works, but it's ugly, and thus not very enticing to use.
Another issue: While a recent update to ChannelCaster seemed to improve the app's overall speed, the app still doesn't always feel responsive—sometimes it freezes, other times you have to tap an item twice or three times before it works. This tendency is problematic in both the iPhone and iPad versions of the app, but especially noticeable in the former—you have to scroll more to read your chosen stories, but too often find yourself waiting for the scroll function to work.
Finally, while you can sign up for a single account to use the app across both your iPhone and iPad, not all the settings transfer between devices. You must individually sign into Facebook and Twitter on both. I found that inconvenient, though some users might find it to be an advantageous security measure.
On the surface, ChannelCaster looks great. Dig a little and there's plenty of room for improvement—and a substantial improvement has been made. The version 1.2 update released at the end of April eliminated many of my more substantial complaints about the app. ChannelCaster now makes it much easier to customize your content than before. The app hasn't quite arrived in the top tier of news aggregators, but that day may not be far off.
[Joel Mathis is a writer in Philadelphia.]