Google Docs has unveiled a new research tool meant to help writers streamline their browser-based research, making it easier for them to find and cite the information they need while composing text.
The feature, announced Tuesday, appears as an in-page vertical pane on the right side of your Google Doc. (You can see an example of the pane at left.) It can be accessed either through the page's Tools menu, or with a Command-Option-R keyboard shortcut on your Mac.
The tool offers three types of searches: A basic "everything" search, another just for images, and a third featuring quotes about—or by—the subject of your search.
In "everything" mode, a search for GOP presidential candidate Mitt Romney brought up a column of images and information. At the top of the column, a scrollable set of thumbnail pictures of the man, followed by some basic dossier information—birthday, hometown, and religion—followed by a quote from Romney, taken from an ABC News story that had appeared within the last hour.
The top Web links for a topic are displayed underneath that roster of information. You're given three option with the links: First, you can "preview" the linked page within the Google Docs page—though you'll have to open a new tab if you want to conduct a more thorough perusal of the pertinent info. The second option is to create a link to that page directly from the text you're writing. The third is to create a footnote in the text that cites the link.
The image search is a bit more stripped down, though it offers one useful option: You can choose to search for all images related to your search, or filter for those with licenses that make them free to use, share, or modify. The images can then be dragged into your text.
The quotes search acts a bit like Bartlett's Familiar Quotations—the search favors old quotes about familiar topics: A whole list of sayings from William Shakespeare or Albert Einstein pop up quickly, but a search on a topic of more recent vintage—Romney again—turned up only that single ABC News reference, with no options for diving deeper.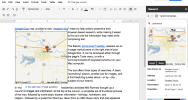 There is one other search option in research, though it isn't featured in the menu: A "places" search. Enter the name of a town, and the research tool will offer a map of the location, which can be dragged and dropped into the text, along with pictures and Web links for that place.
Though Google Docs's new research tool doesn't completely eliminate the river of open browser tabs a writer can sometimes face, it does offer a few shortcuts that many writers will be happy to have.