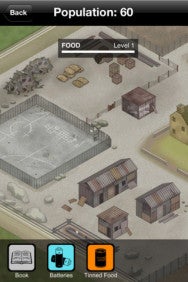 Sometimes it pays to ask nicely.
The developers behind the Zombies, Run! game for iPhone say that they were able to distribute 3,000 copies of their app to backers who had funded its development through the Kickstarter "crowdfunding" site—this despite Apple's rules limiting developers to 50 promotional codes for a single iOS app.
The unusual distribution also meant that Apple gave up its 30 percent cut of revenues for sales to those early funders, from a game that sells for $8. The developers said that they accomplished this feat by communicating early and often with Cupertino.
"The most important step was telling Apple what we were going to do before we did it," the developers at UK-based Six to Start said in a recent blog post.
Apple did not respond to requests for confirmation of Six to Start's account. The developers posted their story on May 9, but it received more notice this week when it was first reported by TUAW.
Six to Start raised $72,000 last October to support development of the Zombies, Run! game—an overwhelming response, considering the developers' goal had been just $12,500. They promised backers that a pledge of $10 or more would count, essentially, as a pre-order of the game.
The challenge? Apple's policy requires that paid iOS apps be purchased directly from the App Store—no outside sales. Six to Start circumvented the rule by creating two apps: the main Zombies, Run! game, and a second, stripped-down app called ZR Advance. The Kickstarter crowd was directed to install the second app—and given a password to unlock the game's full content.
Six to Start said that Apple offered some advice—including a suggestion that the ZR Advance app contain some free content for "curious downloaders"—and a requirement that all outside sales of the app be shut down once Zombies, Run! hit the App Store.
The developers said that established game developers like Electronic Arts and Zynga wouldn't need such arrangements, but they proved beneficial to a small, independent company that relied on crowdsourced funding in order to get going.
Without Apple's official confirmation, it is difficult to know if Six to Start's approach will be open to other crowdfunded app developers.
"Please do not take this post as any kind of official Apple policy," the developers wrote. "Even if this strategy was fine earlier this year, there is no telling whether it'll still be fine next year."