This week's roundup of iOS apps offers all kinds of listening options—whether you're staying at home, partying at the club, or going to see your favorite band in concert.
Already this week, we brought you guides to the best kid-friendly books for iOS, as well the best game sequels for iPad and iPhone. And in the world of productivity apps, both Remember The Milk and Sparrow for iPhone received spiffy new updates.
Here are other new and updated apps that caught our eye this week.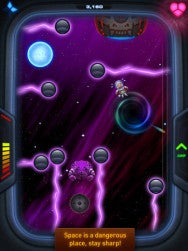 Astronut for iPad: You won't quite go to infinity and beyond, but the $2 Astronut for iPad from Iconfactory features a zealous space traveler in the Buzz Lightyear mold. You travel through galaxies, collect star shards, and face unfriendly aliens across 24 levels, all while trying to unlock the game's 40 achievements. Astronut features Game Center support, and is optimized for the new iPad's Retina display. We'd say this title will take you where no man has gone before, but the game already has more than 1000 followers on Twitter.
Flipboard: The original social media magazine wants you to do more than read—now it wants you to listen. The free Flipboard app for iPhone and iPad updated this week with Soundcloud functionality, as well as partnerships with NPR and Public Radio International. (Flipboard's menu now has a special audio feature that lets you more easily seek out such offerings.) Click on a sound file that you want to hear and you can keep listening, even while Flipboard is in the background and you use other apps. Other updates include the ability to save stories to Readability, as well as a Twitter upgrade that lets you view just your favorites in the feed, or Tweets mentioning you.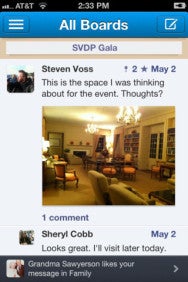 Glassboard: This free social networking iPhone app from Sepia Laps has long let users create private message boards with friends and colleagues. Now Glassboard has been updated to keep things private, but offer the option of letting outsiders in—partly by allowing them to join the conversation from the company's new Web app or via email; no smartphones required. (Users also now have the ability to issue invitation codes to other people they want to participate.) The iOS app now allows file sharing, as well as a offering gallery for recently posted videos and photos.
Schemer: Stuck for something to do, either in your neighborhood or around the house? Google's free Schemer iPhone app crowdsources suggestions for you depending on your interests—movies, fitness, food, and other categories are represented. At this early stage, the "on the town" suggestions are heavily populated with recommendation from Zagat and the Bravo television network. The stay-at-home suggestions can be a little more detailed, depending on your interests, offering specific movies to watch or books to read. If you're feeling social, you can share your activities or your goals on Google+.
StubHub: If you want to buy hard-to-find tickets for top sporting event or concerts, the free StubHub iPhone app already offers a quick and convenient way to do so. The app's new update now lets commerce flow both ways, by letting users sell tickets instead of just buying them. Users can post the tickets, set the price and even adjust it at any time. StubHub takes care of the ticket delivery, making it easy to get rid of that extra pair of Phantom of the Opera ducats.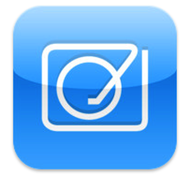 Thefuture.fm: This free music app for iPhone used to be known as Dubset I DJ Defined Radio. While it's been relaunched under the somewhat less clunky name Thefuture.fm, it still offers music "curated by the best DJs in the world." The update makes it more user-friendly, offering options to save, favorite, and follow particular DJs in the app, as well as to create playlists of the best music offered within. A new search engine makes it easier to find music; so does a new browsing option that lets you investigate music by genre. With this app, you'll be ready for a rave wherever you go.