Google+ may not have taken the social networking world by storm the way Google hoped, but it does offer useful tools for the workplace and project-oriented groups. Hangouts, the company's online video chat technology, offers a simple way for people to get together and meet, no external software required. The video service also integrates with Google's other free tools, so that you can talk while working together on a Google Doc or share your screen to troubleshoot a problem.
Start a hangout
Most online chatters may be familiar with using Skype or iChat, but Google+ Hangouts eschews the software requirement in favor of browser-based video conferencing. It keeps routines simpler for participants, and your computer can avoid receiving yet another piece of extra software.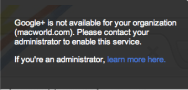 To start a Hangout, you will need a Google+ account. If you already have a Google account for Gmail or another Google service, those credentials will work once you visit plus.google.com and set up a few things.
If your company has a Google Apps account, you need your administrator to turn on Google+ for all accounts before you can use the service; otherwise you'll just receive an error when you try and visit the social networking site.
Starting or joining a hangout is relatively pain-free on your Mac or PC: Once on the Google+ website, just click the Hangouts button on the left toolbar. This section allows you to start a hangout with your friends or co-workers as well as join hangouts already in progress.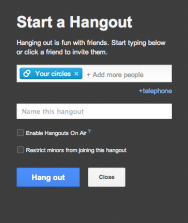 To start a hangout of your very own, click Start A Hangout. (You may have to download Google's voice and video plugin before you can create one.) In the Hangout tool, you'll see a directory listing of all your contacts on Google+ along with a preview of your video feed down at the bottom of the screen. You can invite up to nine people.
You can add contacts from Google+ or whole circles, so that you don't have to individually type out people's names). You can even initiate a voice-only telephone call-in—though you can currently only have one active telephone call. You can also attempt to add contacts who are not currently on Google+, but it's likely that the email invitation may disappear in a spam folder or before it even reaches its target; we've had bad luck in the past with trying to add non-Google+ email addresses.
You can also give your hangout a name, though it's merely ornamental. If this is a hangout you'd like to broadcast and record, you can enable Google's Hangouts On Air feature; this allows an unlimited number of people to join your hangout as well as recording it to your account's YouTube channel.
Once you've finished tweaking your settings and inviting your participants, start the Hangout.
Inside the hangout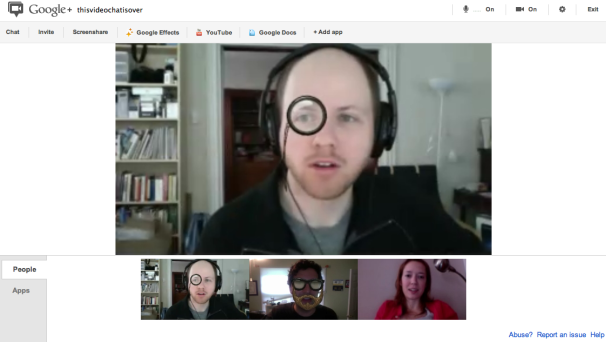 When you start a hangout, you'll likely be the only one there while you wait for your fellow hangoutees to arrive. The main Hangout screen shows a row of chat options at the top, a main video window displaying the current talking participant, and thumbnails of the other participants below.
Chatting on video may be Hangout's primary function, but you can also share your screen, work collaboratively on a Google Docs document, or stream a YouTube video. And if you want to make a text note, you can add it to the text chat window.
All of these options are available from the toolbar along the top of the Google Hangout page. Just click the requisite button to bring up the window pane or overlay you'd like to use.
Fun options
There are a few non-productive options available for Hangout participants, as well. You can dress up your video stream with Effects, which pops various hats, monocles, and props on top of your image, scaling as you move. There are also several collaborative apps available: a sketching program, Texas Hold'Em game, and a few other goodies.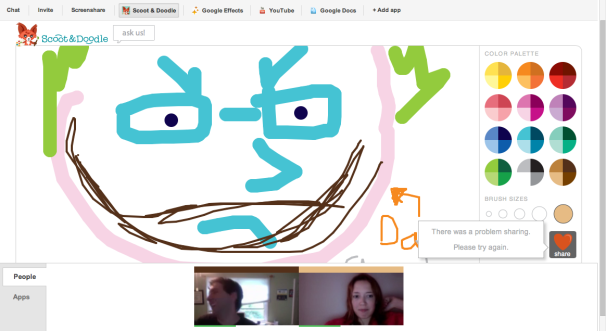 Hangout limitations
The only downside to Hangout meetings at present is that they're limited to nine participants, so larger groups may run into trouble when trying to chat. Hangouts On Air can subvert this, as they allow unlimited participants, but that turns your private meeting into a public, streamed event.
Google+ Hangouts may not be the service you turn to for every video chat and conference need. Still, it offers an easy way for small groups to interact without a lot of set up or extra software.