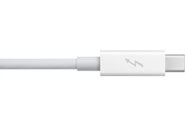 The number of options available for Mac users to buy Thunderbolt cables from outside Apple is growing, with companies announcing longer and competitively priced cables that will also work with upcoming Windows PCs with Thunderbolt ports.
StarTech announced a Thunderbolt cable that is three meters long, which is the longest copper cable available yet. The cable is available for backorder on the UK-based company's website for €56.99 ($90 as of Monday).
The first Thunderbolt ports were introduced in Apple's Mac computers in February last year, but customers were earlier restricted to buying a $49 two-meter cable from Apple. The exclusivity broke when Elgato in April announced a 0.5-meter Thunderbolt cable for $59.
Kanex said Monday that this week it would start shipping a two-meter cable for $59.95. Sumitomo is already offering a two-meter cable in Japan for ¥4,500 ($56). But Apple's Thunderbolt cable remains a cheaper option compared to Kanex and Sumitomo.
Thunderbolt is a high-speed connector technology that shuttles data between computers and peripherals. Co-developed by Apple and Intel, Thunderbolt offers data transfer speeds of up to 10 Gbps, making it a faster alternative to USB 3.0. The companies claim a high-definition movie can be transferred from an external storage device to a laptop in less than 30 seconds. The technology also allows daisy-chaining up to five peripherals, so a longer cable run can make it easier to attach more devices to a single Thunderbolt port.
StarTech's three-meter TBOLTMM3M cable will carry power, reducing the need for some peripherals such as storage devices to connect to power outlets. The three-foot cable will transfer data at the full 10Gbps over the cable.
The current Thunderbolt cables are based on copper, and faster optical cables are expected in the future. Sumitomo has shown a 20-meter optical cable, though it has not said when it will ship. While copper cables can carry power, optical cables cannot carry power and will require peripherals to connect to power outlets.
Lenovo, Acer and Asus have already announced laptops with Thunderbolt ports, though products are not yet available. The ports will also appear in ultrabooks, a form of thin-and-light laptops backed by Intel. Intel is soon expected to announce new chips based on the Ivy Bridge architecture for ultrabooks, which will better support the Thunderbolt interconnect.