If you live the sporting life, there's a brand new suite of HD video cameras to help you capture the action. Ion Worldwide has debuted a trio of tiny, lightweight, wearable 1080p camcorders, ranging in price from $230 to $350, that cater to sports enthusiasts and compete with established brands such as GoPro and Contour.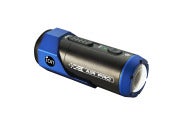 While the Ion Air Pro video cameras are designed for outdoor recreational activities like skiing, biking, and water sports, they are also suitable for general filmmaking like birthday parties, and more sedentary pursuits.
With the camcorder's Wi-Fi component, which will be available on May 28, the Air Pro will let you shoot and immediately share your video to Facebook and YouTube via a free Ion Camera App for iOS.
The camcorder is compatible with Mac OS X 10.4.11 and later and Windows 7 or Vista.
Sports oriented capabilities
The camera's wide angle lens lets you record in 1080p, 960p, and 720p with a field view of up to 170 degrees. It features Dual File recording, capturing both an HD and a lower-resolution (240-by-400 pixel) file simultaneously for easier sharing with social networking sites and faster upload times.
A simple, one-touch function allows simultaneous camera start and record. The camera shoots 5-megapixel still images and, with one click, can capture a single shot, time lapse, or 10 photos in burst mode.
True to their sports orientation, the camcorders are low-profile, wind-resistant, waterproof to 30 feet, and include a waterproof microphone.
The company's Podz system—which consists of thin, circular discs that attach to the back of the camera, adding almost no weight or volume—is designed to extend the capabilities of the camera in various ways.
Three packages, one videocam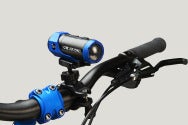 The Ion videocamera packages are comprised of a single camcorder model sold with various accessory packages. The camcorder unit is a 4.5-ounce, 1.5-by-4.2-inch metal and plastic cylinder with an octagonal base that stays put when you place it on a flat surface.
Ion Air Pro, the base model for $230, ships with a mini tripod, travel power adapter, USB and AV cables, and a Cam Locker and pouch. The Ion Air Pro Plus, for $290, adds to the previous package a CamLock system, mounting hardware that secures the camera to a variety of bike handlebars, sports helmets, poles, and boards. The flexible locking system facilitates video recording from any angle without having to re-mount the videocam. The Ion Air Pro Wi-Fi, for $350, offers all the elements included in the Plus package and adds a Wi-Fi feature for computer-and-cable-free instant online connectivity and the uploading of content—via the company's iOS app—to Facebook, YouTube, and the Internet.
No attachment Wi-Fi
With the Ion Wi-Fi Podz, users can preview what the camera sees, replay video footage, and transfer content to social networking sites like YouTube and Facebook using their smart phone.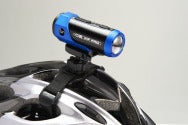 The iPhone app is currently available in the iTunes Store, with iPad and Android versions coming soon. Because the app is in beta, functionality is limited as of press time, but the company says that eventually users will be able to view photos and videos, create albums, and live stream video directly to their mobile device. The app will also allow you to use a smart phone as a remote control for the camera.
Along with the camera comes 8GB of free cloud storage, provided by Ion at MiMedia.com, for storing and sharing video and images. You can also view your content on smart phones and tablets.
Accessorize
In addition to the three main camera packages, there are two add-on options. The $100 Ion Air Pro Connect provides wireless functionality and extended battery life. The kit includes a detachable Wi-Fi Podz and a 1800mAmp Battery Booster, which allows the camera to charge twice without an external power source to provide over seven hours of battery life, the company says. The Wi-Fi Podz can be used with both the standard Ion Air Pro and Plus packages to enable Wi-Fi and sharing capability. The Air Connect Kit will ship on May 28.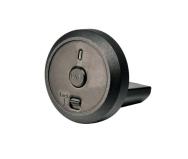 A $70 Helmet & Bike Kit provides a complete CamLock system for handle bars and most summer and winter sports helmets. The CamLock System allows users to attach the Air Pro camera to any type of helmet such as motor and mountain bike, ski, and skydive, as well as a handlebar attachment for mounting the camera onto bicycles, jet skis, 4×4 off road vehicles, and motor bikes.
Availability
The Air Pro and the Air Pro Plus are available now in the U.S., Japan, Australia, and throughout Europe. At launch, they can be purchased from Ion's website. However by the end of May, they will also be available via Amazon.com, the company says. The Air Pro Wi-Fi will ship on May 28 and be available via the same channels as the other products.
On the horizon
Future enhancements and features to the Ion videocam system include an expansive range of Podz devices, designed to boost the capability and flexibility of the camcorders. These include a waterproof remote-controlled Remote Podz, Car Podz for charging on the go, a high performance Microphone Podz for professional quality audio, and an Ion Battery Podz that will enable four hours of recording time.
Be sure to check out our First Look at the Air Pro Wi-Fi for more details about how this sytem works from the user perspective.