On Tuesday, Sonos, maker of multi-room music systems, announced the Sonos Sub. Designed to work with all amplified Sonos components—including the Connect:Amp/ZonePlayer 120/ZonePlayer 100, Play:5 ( ), and Play:3 ( )—the subwoofer features two force-canceling speakers positioned face to face and dual acoustic ports.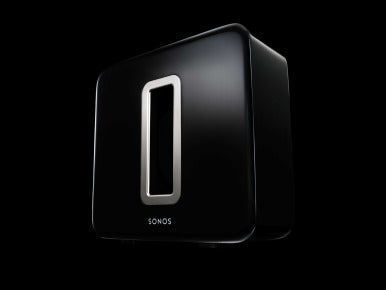 As with other Sonos components, adding the Sub to your existing Sonos gear is simple. Just plug the Sub into a power outlet, press a button on the speaker to initiate pairing, and—using a Sonos hardware- or app-based controller—add the subwoofer to your setup. It will join the Sonos wireless network and play with the components within the zone you've assigned it to—a pair of Play:3s, for example.
The Sub is powered by a pair of Class-D digital amplifiers, weighs 36 pounds, and measures 15.8 x 6.2 x 15 inches. Like other subwoofers, it can be placed anywhere in a room as its bass frequencies are non-directional. The $699 high-gloss black lacquer finish model will be available on June 19. A less-expensive ($599) black matte finish Sub is slated to appear in October.
Sonos Sub