If you ever wanted to record your adventures paragliding in Cozumel, riding a thermal with your hang glider, or simply record your hike hands-free, there are camcorders for all that. A few years ago, the first affordable wearable sports camcorders hit the market, offered by GoPro and Contour. Now Ion Worldwide has entered the scene with its trio of sports camcorder packages: Air Pro, Air Pro Plus, and top-of-the-line Air Pro Wi-Fi. All three packages use the same camcorder body, but the Air Pro Wi-Fi comes with a modular cap—which Ion calls a Wi-Fi Podz—that fits onto the back of the camcorder. This Podz makes this Air Pro the first wearable sports camcorder on the market to sport Wi-Fi. It will ship on May 28 for $350.
Get ready to compromise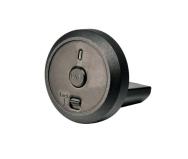 All action camcorders come with trade-offs. Some are the same across all makes and models, like lack of built-in viewfinders, though the Air Pro Wi-Fi and the Contour+ will let you turn your iPhone into a temporary viewfinder, and GoPro offers the optional LCD BacPac ($80) which gives you all the functionality of an LCD panel on a traditional camcorder, including viewing while recording. Using the iPhone as the viewfinder worked OK on this Air Pro. The image is low-resolution and lags the camcorder movement by a second or so, but it works fine for framing shots. However, neither the Air Pro nor the Contour+ let you use the viewfinder function while you are recording.
Another trade-off from traditional camcorders: limited on-camera settings. I prefer the HD Hero2 because you can make all the changes on the camcorder itself, using a pair of buttons and a tiny gray LCD screen. This is handy for when you are out on your adventure, far from your computer and smart device. With the Air Pros, you have to make virtually all changes through the Ion software on your computer. The only on-camera setting you can change is to switch between Full HD (1080p/ 960p) and HD (720p).
Terrific mounting hardware
Nothing beats the Air Pro Wi-Fi when it comes to its passel of mounting hardware that comes standard with the package. In addition to the straps and adhesive backed mounts to affix to surfboards, bicycles, helmets, and other surfaces, Ion offers a bicycle handlebar attachment and a very handy mini-tripod with flexible metal legs for precise positioning. By contrast, Contour's Contour+ comes only with a few adhesive-backed mounts. Especially cool is the ball-joint hinges that Ion uses on its mounts which let you swivel the camera around to set at exactly the angle you want. You get the camcorder in the position you want, then tighten a plastic ring nut to lock it into place. This fulsome mounting kit let me fine-tune the positioning of the Air Pro much more than I could do with the other two camcorders.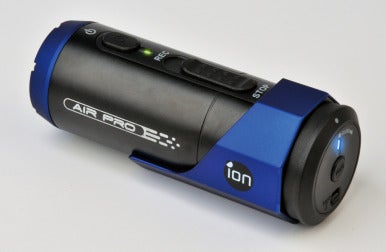 Low light issues
I mounted the Air Pro Wi-Fi on my bike's handlebar and took it for a couple of spins around my neighborhood. At the same time, I donned GoPro's HD Hero2 ($300) using its chest strap, and, for good measure, mounted the Contour+ camcorder ($500) on my helmet. (Yes, I was quite a sight!) I first rode during bright mid-afternoon light, and then at dusk, for some low-light shooting. I set all camcorders to shoot at Full HD (1920-by1080 pixel) resolution at 30 frames per second.
In bright light, the Air Pro's image quality appeared slightly to moderately worse that of the other two camcorders, with images looking a little less sharp and colors a tad oversaturated. However, the differences were more pronounced in low light. The Air Pro fared marginally worse than the Contour+ but dramatically worse than the HD Hero2. Also, the Air Pro's internal mic picked up a lot of my bike noise, such as the grinding whir of the chain and sprocket when I pedaled, and it picked up a lot of wind noise, too. Too bad you can't plug in an external mic like you can with the HD Hero2 and the Contour+. Ion said it plans to offer a Bluetooth Podz down the line to let you use a wireless mic, and I suspect that might mitigate some of these issues.
Getting the right angle
One of the challenges of action shooting is you're often turning the camcorder at crazy angles. The Air Pro Wi-Fi can "autorotate" to give you a properly oriented image, but with two limitations. For one it won't rotate images on the fly—you have to put the camcorder in position before starting to record. For example, say you have the camcorder mounted on the top of your surfboard, and you're recording while riding a wave. When you get to the beach and you flip over the surfboard to carry it on your head, the image will stay inverted unless you first stop recording and then restart recording only after you've flipped over the board. Also, autorotate works only at quarter-turn increments. When I rotated the camcorder in between quarter- turns, for example, 45 degrees off center, I got video at odd angles. I prefer Contour's rotating bezel which lets me adjust to any angle I want even during recording. Still Air Pro's setup this is better than the HD Hero2, which only lets you flip the image 180 degrees, and makes you drill deep down into a menu to do it.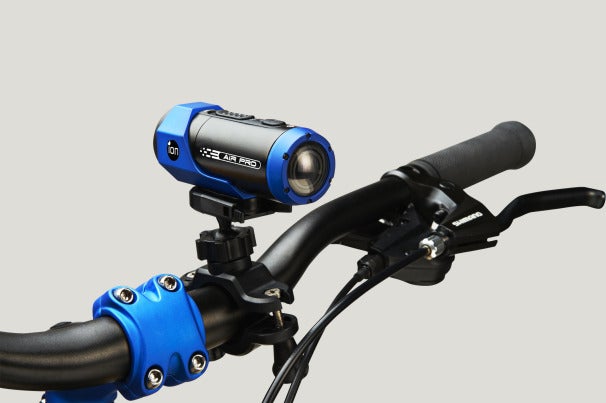 Good file management
The Air Pro and Contour camcorders use tiny easy-to-lose MicroSD cards whereas the HD Hero2 uses the more durable standard-size SD cards. This can make a difference when you need to swap cards when you're in a challenging environment, like hiking during a rainy day. Drop your typical gray-black MicroSD card in the mud, and good luck finding it. On the other hand, this is where Wi-Fi can come in very handy. You can directly connect to your iOS device to offload videos and pictures from this Air Pro. It took me just a minute or two to grab Ion's free app off iTunes, and start shuttling videos and pictures in to my iPhone, deleting them on the camcorder to free up memory for me to take more shots. This helps a lot, because in my rundown tests, this camcorder can record 2.75 hours of HD video (in the MP4 format) on a charge, requiring two 8GB MicroSD cards. Unless you can spring for a 16GB or larger MicroSD card, you may be spending considerable time offloading images.
Go to the videotape
The following videos were shot on the same bike ride. This low-light test gives a good comparison of video output from the Ion and GoPro camcorders.
Ion Air Pro Wi-Fi
GoPro HD Hero2
Eye on Ion
Ion's first forays into the action camcorder market are promising. I still prefer the HD Hero2 for its superior video quality and because I can change all settings directly on the camcorder. However, the Air Pro Wi-Fi offers a lot of extras, including the ability to wirelessly view and offload images and videos via Wi-Fi, great mounting hardware, fast battery charging using the wall-power USB charger, four wall-plug adapters to let you recharge in most countries, and 8GB of free storage in the cloud. The Air Pro's appeal may grow depending on the Podz options Ion offers to extend Air Pro functionality in the future. The company is considering a Bluetooth Podz for an external mic and a Podz to extend battery life and for charging the Air Pro's battery in the car.
[Bryan Hastings is a freelance writer based in the San Francisco Bay Area.]