Yahoo is rolling out Axis, a new searching and browsing tool that syncs between your Web browser of choice and your iOS devices.
Yahoo describes Axis as "a new mobile and desktop browsing / search experience." There are two parts to Axis: a browser extension and a standalone iOS app. Yahoo offers versions of the Axis extension for Safari, Chrome, and Firefox (along with Internet Explorer 9 for Windows); the iOS app is universal.

When you install the extension, Axis plops a slim black search field and toolbar at the bottom left of every browser window. Mouse over the toolbar, and it expands to the full width of your browser window; click on it (or start typing in the search box) and it grows to about 450 pixels tall.
If you type searches into the search box, Axis offers up live search suggestions, along with Web previews of matching search results. You can click on one of those results to go directly to that webpage. If you do so, Axis adds special left and right navigation links to the sides of the webpage; clicking those moves you along to another item from the search results it found for your initial query.

But Axis offers more than that integrated search toolbar. It can also (with your permission) sync the pages you bookmark or visit on different devices. You'll need to log in to Axis on any devices whose browsing you'd like the option to sync. You're offered the option of logging in via your Yahoo, Google, or Facebook account.
In your browser, you can add an Axis bookmark by clicking the star icon in the toolbar. You then get prompted to pick a folder to save your bookmark. You start with two folders, My Favorites and Read Later, but you can add as many folders as you like. Note that the Read Later folder doesn't offer any offline reading option.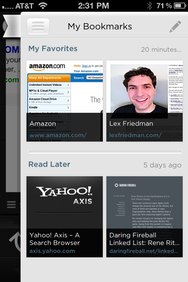 Launch the Axis app on your iPhone or iPad, and you get complete access to any bookmarks you set back in your browser, along with the same integrated search options that the extension offers. And Axis keeps track of the sites you visit on your iOS devices (if you opt in to allow it to do so), so when you're back at your desktop again, you can quickly revisit the sites you last browsed on each device.
In my early testing, Axis is certainly interesting. If you regularly surf on multiple devices and either iCloud sync isn't cutting it for you, or you want full access to pages you've visited from iOS—not just the ones you've bookmarked—the free Axis service is certainly worth a look.
That said, I found that sometimes the browser extension's search field stole keyboard focus when I visited certain webpages. Other times, I forgot to use the integrated search box, falling back on my browser's integrated search bar instead.
Still, Axis is an ambitious, well-implemented offering from Yahoo. You can install the extensions from Yahoo's Axis site once that site goes live later on Wednesday and grab the app from the App Store.
[Lex Friedman is a Macworld staff writer.]