I didn't know when Panic would announce Coda 2 ( ), but I knew that a significant update to its all-in-one-window code editor had to be coming. Diet Coda, the iPad app that Panic announced alongside Coda 2, came as a complete surprise.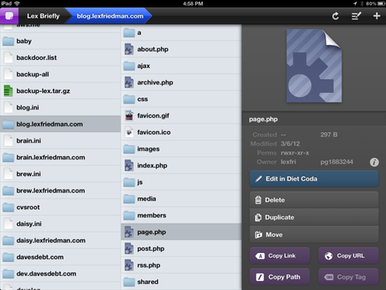 You could—and perhaps even should—stop reading this review and go grab Diet Coda from the App Store right now. If you do work on websites and want the ability to update them from your iPad, there's no app better suited to that purpose than Diet Coda.
Diet Coda launches to a Sites screen that looks much like the one on its desktop counterpart. You can add one or more sites you manage; you provide a remote server address, server connection settings, and that's pretty much it.
When you connect to a site, you get a full, graphical listing of all the files and folders within it. When you tap on a folder, a second pane appears listing that folder's contents. Tap on a folder within that folder, and everything shifts to the left, moving the parent directory off the screen. But the header bar that shows your current path is scrollable and tappable, so you can quickly move back up the hierarchy of files. In fact, the panes listing all your files scroll, too. Even with very deep file structures, getting back to where you started takes a single swipe. Quite frankly, it's a more elegant directory navigation approach than is possible on the Mac.
Tap on a file or directory, and you delete it, duplicate it, move it, copy a fully written-out HTML link to it, copy its URL, copy its path on the server, move it, rename it, or adjust its permissions. Moving files is the only one of those options that feels a bit clunky; Diet Coda requires that you manually type (or paste in) the path to which the file should move.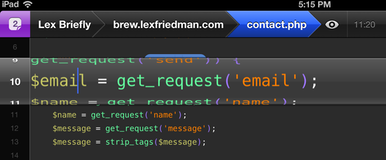 If you need to edit a file, you can do that too. Diet Coda offers a full-featured, integrated text and code editor. That editor offers syntax coloration; custom, contextually-aware keyboards with special keys that make sense for the language you're coding in; Clips, for quickly inserting reusable blocks of text or code; search and replace; and function autocompletion—including parameters.
Diet Coda's editor also includes what Panic calls its Super Loupe. When you need to move the cursor and tap and hold with your finger to do so, the entire line of code gets magnified. It's clever, and it works very well as you try to pinpoint where you'd like to drop the cursor. When you save your code edits, you can preview them immediately from the Web, via Diet Coda.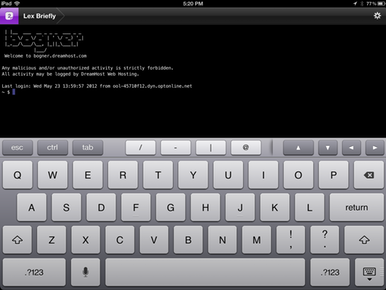 And while all that could certainly be enough, it's not all. Diet Coda also contains a fully functional SSH client with a contextual, customizable keyboard. It's essentially a full integration of Prompt ( ), made considerably more useful by its tight integration with the rest of Diet Coda. You probably never want to be in a situation where you need to SSH into your Web server from your iPad with no hardware keyboard in sight, but Diet Coda at least makes it possible to do so without losing your sanity.
Finally, Diet Coda can function as a receiver for Air Previews from Coda 2. When you make tweaks in the Coda 2 app on your Mac, you can immediately preview them on an iPad running Diet Coda on the same network. Pairing is amusingly simple: You simply point your iPad's rear camera at a flashing image on your Mac's screen, and the device is connected. I found that Coda 2 previews loaded quickly and accurately.
As much as I love my iPad, I prefer to do my code work on a Mac with a real keyboard and mouse. But on those occasions where that's just not possible, or where I need to make such a small change that digging my laptop out just seems like too much effort, Diet Coda on my iPad can perform quite well in its stead.
[Lex Friedman is a Macworld staff writer.]