This week's roundup of iOS apps is another feast for the senses, with offerings that let you pretend to fly through the air, watch the latest shows, read the latest news, or plan that trip to the big city.
Already this week, we brought you hands-on looks at Sketchbook Ink, Google's revamped iOS search app, and Yahoo Axis, which syncs browsing between your mobile devices and desktop.
The week also saw updates to the Mint.com finance app and Tweetbot for iPad, while the universe of video-chatting apps continued to expand with new and updated offerings from Sidecar and ooVoo, respectively.
Other new and updated apps that caught our eye this week: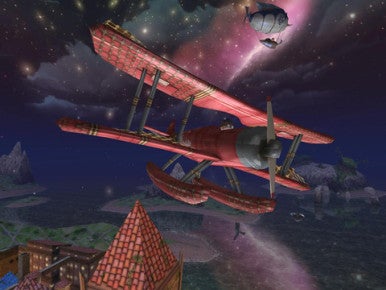 Air Mail: We admit to being partial to all things both steampunk and fantasy, so Chillingo's new $5 Air Mail game—native to both iPhone and iPad—is right up our alley. You pilot a customizable biplane through a fantastical landscape of blimps and pyramids, choosing from one of three game modes: "Mission," which lets you follow a story through seven chapters, "Express Delivery," which features short but action-packed missions, and "Explore," which lets you simply fly around the game's islands and search for hidden treasures. For an extra dollar, you can make an in-app purchase of the game's cheat menu. But beware while you're flying around: You never know if Snoopy is hot on your tail.
Facebook Pages Manager: Facebook's main app for iOS is fine for hanging out online with your friends, but it's not quite as useful if you're the proprietor of one of the site's "pages" featuring public personalities and businesses. Facebook has decided there's a separate app for that—the free Facebook Pages Manager application for iPhone. The app lets users manage all the service's pages that they oversee, as well as use the Insights analytical tool. Users can post updates and photos to a page, and they can receive real-time alerts when fans post comments and links to that page. The good news? It will almost certainly perform better than Facebook's stock price.
Hulu Plus: This app for iPhone and iPad has long been one of the premiere places to stream new and classic TV shows while on the go—and this week saw a major upgrade: Much-improved AirPlay mirroring and HDMI support, making it easier to play video from your iOS device on your television screen. (This part of the upgrade applies only to the iPhone 4S and to the last two generations of iPad.) New features also include Retina support for the new iPad, as well as a revamped video player and user interface. The download is free, but after a trial period you'll pay $8 a month to subscribe to the service.
New York Times: It's a dire time for newspapers, but the New York Times keeps pressing ahead with improvements to both its iPhone and iPad apps. Both versions now give access users to the paper's blog offerings—a feature that was previously available only at the website. Users can now shuffle and adjust the news sections to meet their preferences, and fresh news will automatically download overnight as long as your device is connected to Wi-Fi. The iPad app has one other new feature—the ability to zoom in for a closeup on photos that accompany stories. Both apps are free, though you'll pay $15 a month for full access to the iPhone app and $20 a month for full access to the iPad offering.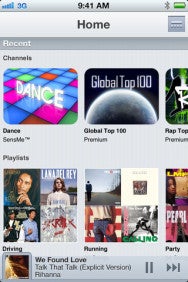 Music Unlimited: Sony has decided to unleash its music catalog on mobile-using audiophiles, with the launch of its new Music Unlimited service for iPhone. It offers t wo subscription options: The $4-a-month service offers Pandora-style listening to ad-free music channels that span a range of genres and moods; the $10-a-month "premium" lets users play any song or album on demand, Spotify-style, while letting them create and edit playlists to further customize listening. New customers can try out the service free for 30 days.
Yahoo TimeTraveler: No, unfortunately, this is not an app that lets you fly back and forth through the centuries like Inspector Spacetime. But Yahoo TimeTraveler, a free iPhone offering, offers some nifty features of its own—helping users plan their itineraries for trips in 29 major cities around the world. Input your start location and end location and the app will provide up to 10 hours of sites and experiences to enjoy along the way. Plans can be shared to Facebook or Twitter, and multiple plans can be created in the city of your choice.