At a Glance
Expert's Rating
Pros
Offers Finder-mountable remote disk
Bundles several useful services
Off-site backup uses Time Machine interface
Cons
Limited controls in many features
Comparatively high cost for backups
Our Verdict
Dolly Drive launched in 2010 as a crazy idea: why not back up your Mac with Time Machine over the Internet?! The firm proved over time that it wasn't as odd an idea as it first seemed. It's a rather simple solution that hides the underlying management complexity. Its software simulates a disk that Mac OS X believes is a networked volume available for Time Machine backups. Apple's backup processes handle transfers and restores.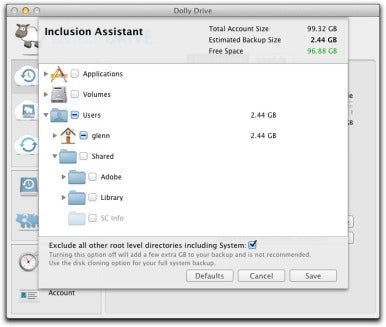 However, it competes with hosted Internet backup options such as CrashPlan ( ) and Jungle Disk. These services provide their own backup software interface and back-end handling, rather than relying on OS X's Time Machine, and often have substantially more granular settings for which files are backed up and at what frequency. Backup-only services can be far cheaper. CrashPlan's single-computer unlimited backup price is $5 per month, while Dolly Drive includes just 50GB for a single-user account intended for a single computer. (See Which online backup service is right for you? for more info about online backup services.)
Dolly Drive has expanded its basic features, and winds up now being a one-stop solution for local and Internet-hosted backups, synchronization, and remote Finder-mountable disk storage, with a disk cloning utility thrown in—if you're the right fit for its choices. The recent 2.2 software update added sync and a mountable volume. This makes its pricing more reasonable if you want an array of services from a single company. For example, Dropbox charges $10 per month for 50GB of storage. Dolly Drive offers individual plans with up to 2TB and family plans with up to 8TB of storage.
While I tested each of Dolly Drive's features, this article focuses on suitable replacements or alternatives to MobileMe's Finder-mountable Internet-hosted iDisk storage, which disappears on June 30, 2012.
Hello, Dolly
Let me start by defining Dolly Drive's five services to distinguish them. Dolly Drive's initial service was Cloud Backup, which remains at the top of its offerings. It can also manage local backups using Time Machine, providing scheduling and file inclusion by folder location in a way that Apple's built-in feature lacks. This feature works fine in testing, and is indistinguishable from a local Time Machine backup, except in the limits of data transfer over your broadband connection.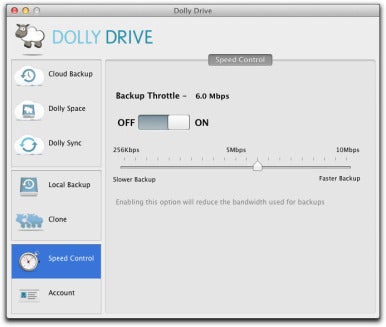 Its Clone feature resembles that of Carbon Copy Cloner or Super Duper! without the same depth of features, such as scheduling. Clone inexcusably lacks information on its plain progress meter that would let you know the true extent of progress, an estimate of time remaining, or other feedback. Clones can take quite a while. And its process for selecting a source and destination volume leaves something to be desired in terms of feedback about making the right choice and the action to take place. It would be nice to have a summary that said, instead of Continue and Abort buttons, "Drive will be erased and completely replaced with a clone of drive." It can perform incremental updates to cloned drives, however.
But the real gold is in Dolly Sync and Dolly Space. In the simplest explanation, Dolly Sync is Dropbox and Dolly Space replaces iDisk. The distinction between the two is fairly clear. Sync is confined to a folder on your Desktop. Anything dropped into the Sync folder remains on your local drive, is copied to Dolly Drive's central servers, and is then replicated to any other computer on which you have Dolly Drive installed and the Sync option enabled. Sync combines local and central storage with replication. Remove something from the Sync folder and it's removed everywhere. This works exactly like a Dropbox (or SugarSync, Google Drive, SkyDrive, or Box) sync folder.
Dolly Space is a Finder-mountable remote volume that requires the separate installation of OSX FUSE, which allows non-standard volume types to be mounted. (No restart is required after installing OSX FUSE.) Space is an Internet-hosted disk volume, and, unlike sync, a local copy of the file is not stored nor cached. You can move (Command-drag) files from local drives to the Space drive, and they are deleted locally and stored remotely. You can open files from the remote drive in applications, and the file is first transferred to your machine in the way that any file on a mounted volume is temporarily copied, and then opened. (iDisk could conflate sync and remote volume if you'd enabled the local caching option, although because it worked so poorly, I'm not sure if it was commonly used.)
Both synchronized and Space-stored files can be accessed through Dolly Drive's Web site when you're logged into your account, as well as through the free iDolly iOS app. In the current release, the amount of storage allocated to Sync in a 50GB account is 6GB and to Space 12GB. However, Cirrus Thinking said users can request those allocations be changed, and plans to allow user-selectable allocations. (Allocations are proportionately larger with larger individual plans, and with per-machine storage allotments in a family plan.)
While Dolly Space can replace iDisk more or less entirely, Dolly Sync has some shortfalls if you use Dropbox et al. for anything but simple synchronization. In the current release, you can't selectively sync, or choose or omit sub-folders in the sync folders for particular machines. There's no option to share folders with other Dolly Drive users, and there's no way to create a publicly shared item. It also lacks an interface for restoring deleted files or finding older versions. If you need any of these features, you need a full-featured sync/storage service.
Pricing plans
Dolly Drive offers a perhaps too vast array of pricing options. For a single user with a single computer, you can pay from $5 per month with no commitment for up to 50 GB of storage, all the way to $40 per month for up to 2TB of storage. Discounts range from 20 to 40 percent for 6-month, 1-year, and 2-year prepaid subscriptions.
As with all remote storage and backup systems, you may suffer from heartbreak of data caps and overage fees with your broadband service. You may want to back up 1TB of data, but your provider limits you to 250GB per month or charges $10 per 50GB above a cap of 100 or 200GB. To work around that problem, Cirrus Thinking offers a seeding service in which you perform a local backup using a drive it sends you, and you return. Subsequent remote backups are then incremental. The option costs $50 for low-priced plan, and is included with higher-priced offerings.
Macworld's buying advice
Dolly Drive is a portmanteau of remote storage, backup, and access options, none of which it provides any great depth of dials to twist. But most users likely don't need many of the settings available with separately subscribed services. Dolly Drive could be a simple answer to a whole set of problems all in one package.
[Glenn Fleishman, a senior contributor to Macworld, started backing up his files on paper tape and cassette tapes in 1980, and proceed through floppies, DAT, DLT, and hard drives. His latest book is Take Control of Your 802.11n AirPort Network for Lion.]